In fight with breast cancer, PUMA is asking the question, 'Who do you wear your pink for?' and launching the 2012 Project Pink. The basics of the program remain the same as in previous two years: people can nominate their favorite charity, vote for it, buy dedicated PUMA products, and share the project with friends online.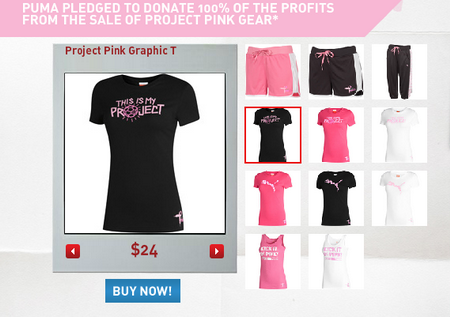 Photo: Project Pink 2012 Collection
Last year, Project Pink donated $100,000+ to the Dr. Susan Love Research Foundation. This year PUMA is also intended to raise up to $120,000. To take part in the project, supporters can nominate any appropriate charity till September 21.
100% of profits from the sale of Project Pink will be donated to the charity in October, when the winner will be announced at the Project Pink Charity Soccer Game this October in Los Angeles. PUMA has partnered with clubs like the Southern California Blues and FC Nova to arrange Project Pink soccer tournaments across the country.
Actress, singer, and producer Ashley Tisdale supports the program this year, being a 2012's Project Pink ambassador. Tisdale shares her thought on the project on Twitter and features in a video. Twitter fans can also help— PUMA is pledging to donate an additional dollar to the cause for each tweet using the hashtag.
«I wear my pink for my grandmother, who recently battled breast cancer,» Tisdale explained. «I'm happy to say that she's now in remission, but there are too many women out there who are still fighting.»
This year's Project Pink Collection features graphic tees and tank tops, pink hoodies, shorts, and capris as well as soccer gear including soccer balls, shin guards, and goalie gloves. The Project Pink Collection is available now at Shop.PUMA.com, Soccer.com, and other partner retailers across the country.