The article is written by Greg Taylor, Director of Brand Provocation at Elmwood, London
Bigger, brighter, better. We've always been drawn like moths to the flame to the neon delights of the city. With the UN predicting that 70% of the world's population will be living in cities by 2050, this urban pilgrimage shows no sign of letting up. The result is the growth of the megacity.
The megacity is, for many nations, the engine room of their economy. It's where the work is and for the majority there's little choice but to do a 'Dick Whittington'. Whilst the streets might not all be paved with gold, the urban landscape does appear to be shifting. Witness how city and suburb are blurring in places like Manhattan, Brooklyn and Williamsburg. In the past, there may have been city and suburbia. Today it's more urbania!
Civic fathers 2.0
Planning for urbania is a crazy business. For the 21st Century civic father, it requires the imagination of yesteryear industrial revolutionaries like Brunel, Stevenson and Edison to cope with the influx of people and all that goes with that. The issues around better transport, improving sustainability, and the pressure of just living in a high-density environment are the thorniest. Providing the canvas to bring all that's required for the megacity to thrive is no mean feat. Moscow may have announced plans last year to double in size to ease congestion and overcrowding. But is making it bigger the only solution? What other ideas are there for ensuring there is at least some quality of life for today's buzzed up urbanite?
On yer bike
Gadding around urbania is often tricky. Government departments like the UK's Department for Transport undertake huge projects like London's Crossrail. And let's not forget China's Ministry of Railways' plan for a New Silk Road, a high-speed network involving 17 countries and even Europe by 2025. However, people are also seeking more sedate and healthier ways to travel.
According to Transport for London, bicycle journeys have grown by 15% between 2010 and 2011. Of course Boris's (and Barclays') bikes are contributing but other brands are also picking up on the phenomena and providing more stylish alternatives. Cycle chic doesn't come much cooler than the Pashley Guv'nor.
It has everything any self-respecting retrosexual would wish for. Dripping in authenticity, there's the type of craftsmanship and heritage that inspires real brand advocacy and is celebrated in the annual Tweed Run, 'a metropolitan bicycle ride with a bit of style'. It's a traditional knees-up of English heritage and classic cycling, and sees 500 dapper riders take to the streets of central London in a convoy of Harris Tweed. It stops halfway for tea and ends up with a knees-up of another kind, involving whisky drinking in a secret location. And it's all in a good cause, raising money for Bikes4Africa.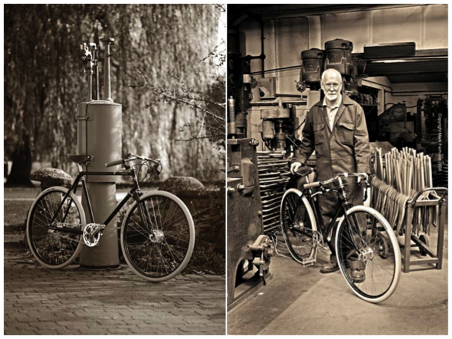 Photo. Pashley retro cycles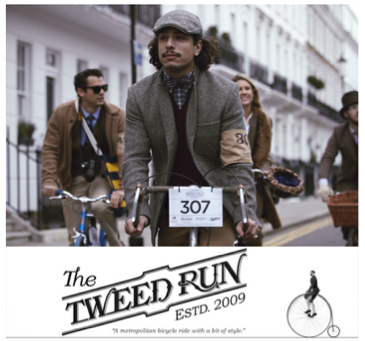 Photo. An annual Tweed Run in London
Making the most of the environment
As well as seeking alternative means of transport, we're looking for alternative uses of the relics of transport. Living on top of each other is a perennial problem for the city dweller. More creative use of space can help to make life sweeter.
Manhattan's High Line Park is an amazing example of such thinking. It's a public park built on an historic freight rail line elevated above the streets of the city's Meatpacking district, overlooking the Hudson River.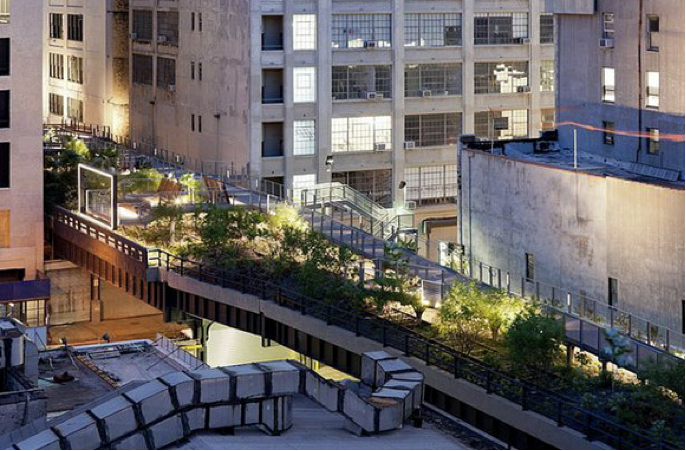 Photo. Manhattan's Meatpacking district
This environmental renaissance of disused rail has breathed life into the surrounding architecture with the great and good getting onboard. Frank Gehry's IAC building is nearby, accompanied by Jean Nouvel; further along, is Neil Denari's HL23,with Renzo Piano (of London's Shard) set to make his mark at the foot of the High Line's main entrance with designs for the new extension of the Whitney Museum.
Encouraged by the success of the High Line, another group of New Yorkers are planning a similar project. Nicknamed the 'Low Line', the Delancey Underground project is going down rather than up. The project aims to convert the abandoned Williamsburg Trolley Terminal, which opened beneath Manhattan's Delancey Street in 1903, into an underground public space. One of the project's leaders, James Ramsey, a former NASA satellite engineer, came up with the idea whilst working on another project using innovative solar technology.
In a nutshell, an above ground optical system concentrates sunlight and redirects it using tubes and fibre optic cables. Not only does it feel like sunlight, it can support photosynthesis, making it possible to have real plants. The use of cool green tech like this could mean in the future cities can look down as well as up to make the most of the space they have for their citizens.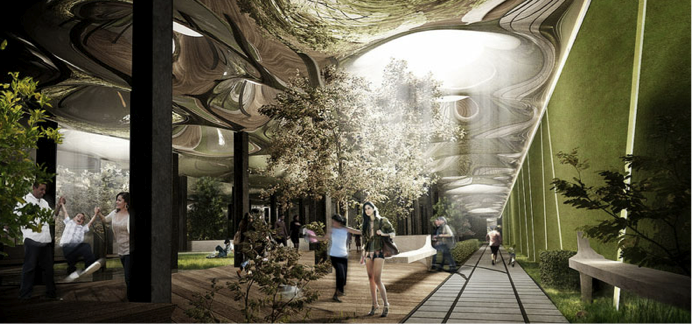 Photo. Manhattan's Delancey Street
Big city scoop
For all its challenges, the fast-paced lifestyle of the megacity has its upsides. For frenetic read excitement, for transient read new, for chaotic read vibrant. Those who live in and love urbania are hooked on the now, always on the look out for the next big thing. Nike – a brand always keen to help us keep ahead of the game – has developed an app that gives us the inside track on what's happening in Europe's top cities: London, Berlin, Milan, Amsterdam, Barcelona and Paris. True City combines geo-tagged content, social media and mobile technology for a 21st-century insider's guide. With its promise to 'make the hidden visible', True City provides unique insights with real-time updates by locals in the know.
Photo. Nike's True City App
The app also makes use of QR code technology. When users point their iPhones at specially designed posters placed strategically round the city, they'll uncover insiders' tips, such as a gig happening that night or a new store opening.
Perhaps the last word on all that is urban and urbane should go to Tyler Brûlé, the global stylist and founder of Monocle magazine, which every year creates a list of what is considered to be the top 25 most liveable cities. This year's winner: Zurich. Apparently it offers 'the perfect urban cocktail of understated chic, connectivity and a bustling art scene served up on leafy lakeside quays'. Who would think life in the city could taste so good?
About the Author

Greg Taylor became founding partner in global brand design consultancy Elmwood in 1989. Now Director of Brand Provocation, Greg is the creator and facilitator of Step Change™, Elmwood's strategic tool for moving ideas forward. Clients include ASDA, Wal-Mart, Arla Foods, BBC, COI (Defra and DfT), Cable&Wireless, Comic Relief, Debbie & Andrew's, Durex, Glasgow 2014 Commonwealth Games, McCain, and the Met Office.