Volkswagen Aktiengesellschaft and Porsche Automobil Holding SE have announced they will create the integrated automotive group. According to the statement, Porsche will be contributed to the Volkswagen Group starting August 1.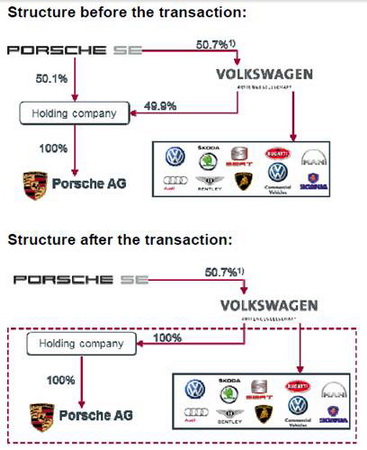 Photo: the transaction scheme
Last September the companies said that it would not be possible for them to merger by the end of 2011, as had been agreed because of the tax issues but they found an alternative way to establish an integrated automotive group earlier—due to Reorganisation Tax Act Taxation of Reorganisations Circular which was published at the end of 2011.
The acceleration will allow VW to start implementing a joint strategy for Porsche's automotive business more quickly as well as simplify Volkswagen AG and Porsche AG cooperation.
According to the agreement Porsche will receive around €4.46 billion and one Volkswagen ordinary share and will contribute its operations as a holding company, including its 50.1 per cent Porsche stake, to Volkswagen which already holds indirectly 49.9 per cent of Porsche AG. Porsche SE will recieve dividend payments from its indirect stake in Porsche AG. All these will have a positive impact on Volkswagen's consolidated profit.
"The course we are following makes strategic sense and will bring sustained benefits for all stakeholders, it creates transparency as to future developments, and lays the foundations for swiftly intensifying cooperation between Volkswagen and Porsche AG. For Volkswagen, our sound financial and liquidity position and maintaining our strong rating are also important," said CFO Hans Dieter Pötsch.