Dr Pepper Tuition Giveaway annual program will sponsor talents again this year's football season. The company will give away more than $1 million in tuition money to those who will be able to persuade Dr Pepper in the necessity of this support.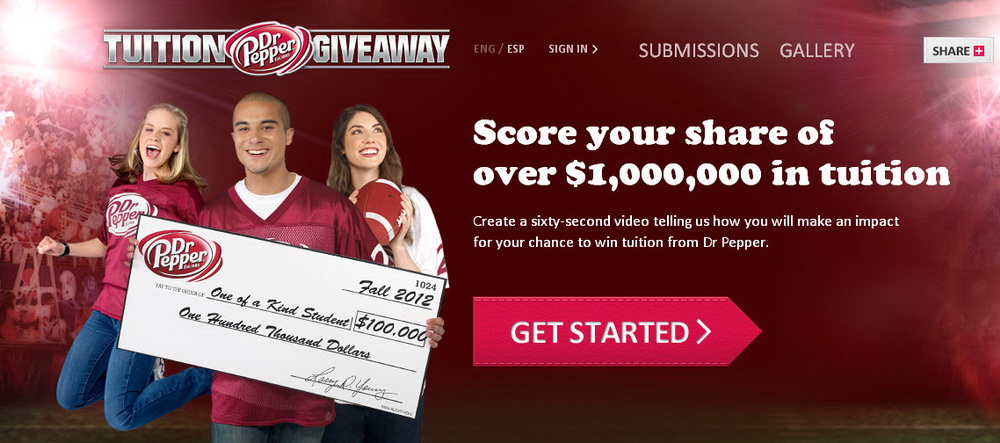 Photo: Dr Pepper Tuition Giveaway program announcement, clickable
Fans can submit 60-second videos online at DrPepper.com explaining why do they need tuition money and compete to win various prize levels. Five grand prizes will support the winners with the sum of $100,000 each. Additionally, Dr Pepper will award $2,500 instant tuition prizes till the end of 2012.
To win the Dr Pepper Tuition money, participants aged 18—24 have to describe how the tuition money will help them contribute to society and mention or show Dr Pepper can in the video.
For the first time, two contestants will compete for $100,000 in tuition prior to the Cowboys Classic, Labor Day Weekend inArlington, Texas. And once again, eight contestants will have their shot at a grand prize during halftime of the Dr Pepper ACC Championship, the Big Ten Championship, the Pac-12 Championship and the SEC Championship.
As in previous years, selected contest finalists will throw footballs from the five-yard line into a two-foot hole in an oversized Dr Pepper can replica. $100,000 in tuition will be given to a participant who will successfully complete the most throws in 30 seconds. The runner-up will receive a $23,000 tuition prize, while three other contestants invited to each game who do not advance past a preliminary throw will receive $2,500.
Traditionally, winners' faces and stories will appear on limited-edition cans of Dr Pepper products, online and in a national television commercial.
Watch the 2011 grand prize winner's video below.