Gap's new global marketing campaign for this fall, Shine developed in partnership with Ogilvy, gains momentum. Gap rolls out its new fall collection called 'Icon Redefined' in a series of short films featuring different musicians and dancers who wear Gap's iconic garments but with a modern twist and in rich color palette.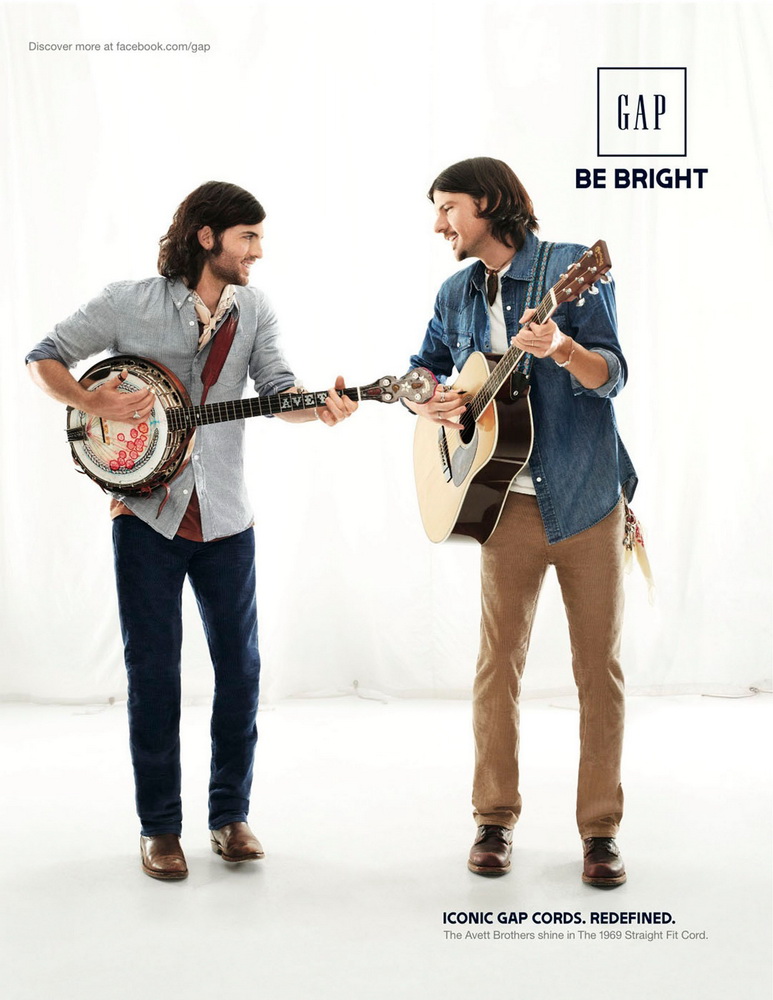 Photo: Avett Brothers in Gap's campaign, clickable
The cast members include musicians Seth and Scott Avett from the Avett Brothers; American pop duo Karmin; professional 'Jookin' dancer Lil' Buck; singer-songwriter Lia Ices; Chinese-born San Francisco ballet dancer Yuan Yuan Tan; musician Kaki King; and singer-songwriter Nicki Bluhm. Each participant of this campaign is known for their outstanding and innovational style of performance and in the movies each of them embodies what it means to be bright.
«Gap's fall collection clearly reflects our casual, American style through modern interpretations of our iconic classics that customers can really make their own,» said Seth Farbman, Gap's Global Chief Marketing Officer. «With Shine, we continue our brand's tradition of introducing emerging artists and musicians that inspire people creatively to make their mark on the world. It's this kind of energy and passion for individual style that we are infusing into our clothes today.»
In addition to the videos, Gap will offer consumers an eight-week inspirational content series about the musicians on Gap's social media channels including a YouTube video of Lil' Buck jookin', a Facebook how-to tutorial of Kaki King's guitar tricks, style tips from Nicki Bluhm on Foursquare and much more across other social media.
Gap also continues its collaboration with fashion and lifestyle websites, Styld.by and its partners. On August 16, all the partners, including Refinery29, WhoWhatWear, Lookbook, Rue and Stereogum, will host in-store events to mark the launch of the fall collection. Select stores in Boston, Chicago, Dallas, Los Angeles, New York, Miami, Philadelphia, San Francisco, Torontoand Washington D.C. will host this events.
Shine will also debut in September issues of national magazines including Vogue, Lucky, InStyle, Glamour, GQ, Men's Health, Rolling Stone and Nylon and outdoor in key markets including New York, Los Angeles, San Francisco and Chicago.