Along with facilitating piracy within its search engine, Google announces the acquisition of all of John Wiley & Sons Inc.'s travel assets, including the Frommer's brand. With the move Google will expand its local services and own about 350 travel guides and the Frommers.com travel-planning website.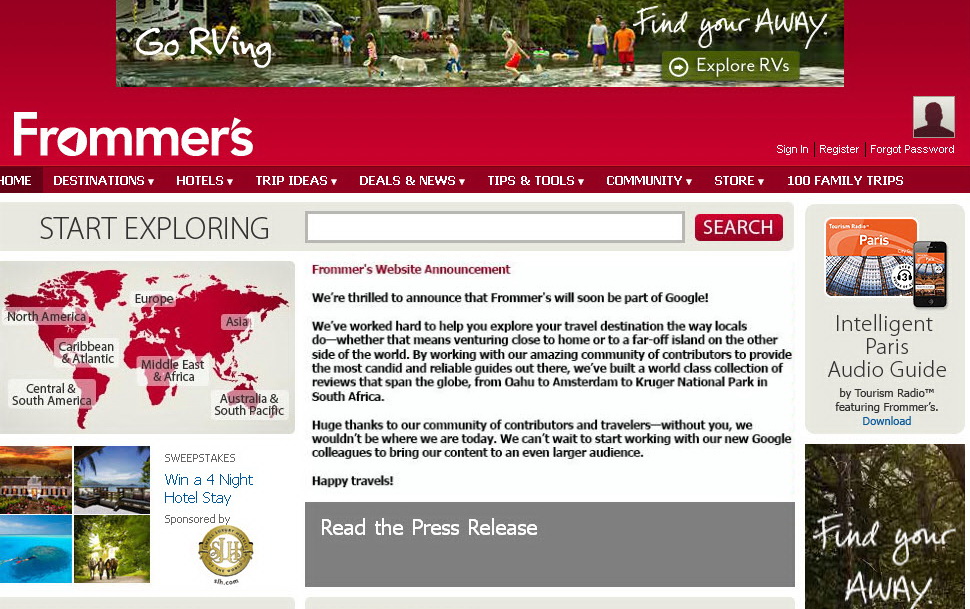 Photo: Frommers.com title page, clickable
Last year, Google paid $151 million to buy Zagat Survey, which offers reviews of restaurants, hotels and nightclubs in cities around the world. Now, the company intends to improve its travel category.
«The Frommer's team and the quality and scope of their content will be a great addition to the Zagat team,» Google said in a statement. «We can't wait to start working with them on our goal to provide a review for every relevant place in the world.»
Frommer's was launched in 1957 with a 'Europe on $5 a Day' guidebook by Arthur Frommer, a former U.S. soldier. John Wiley, who owned Frommer's since 2001, will reinvest the proceeds from this deal to support other businesses, according to the publisher.
With this acquisition, Google gets an access to the Frommer's huge database of business listings and tourist hotspots that can be integrated into Google's deep pools of data, says Reuters. 
«When Google buys Frommer's they're not really buying a book publisher or imprint, they're buying a database with both content and photography,» said Lorraine Shanley, president at Market Partners International, a publishing consulting firm in New York.