IKEA and 303Lowe, Perth have unveiled a 'Happy IKEA New Year' integrated campaign supporting its 2013 catalog.
The catalog is distributed at the same time every year, so the agency connected the concept of the campaign associated with the fact of the new year beginning, says Campaign Brief.
«With a new catalog comes the new year. It's a time for new beginnings. A time for people to get a fresh start in their homes and commit to new resolutions for the year ahead,» commented Richard Berney, associate creative director at 303Lowe, Perth.
The concept can be easily shown through various media channels and is anticipated by many consumers. The integrated campaign includes press and print work such as metro and community press, Adshels, bus backs and taxi backs, online, direct, social media and the IKEA website. The firework features on price tags, point-of-sale and till receipts.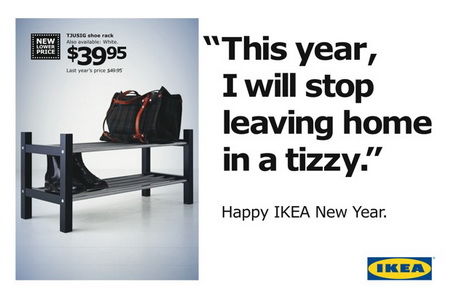 Photo: IKEA 2013 catalog page, from www.campaignbrief.com
The 2013 catalog has special 'New Home Resolutions' pages, a marketing initiative that was developed for in-store point-of-sale. It is also supported by four 15-second radio spots where people share their new home resolutions.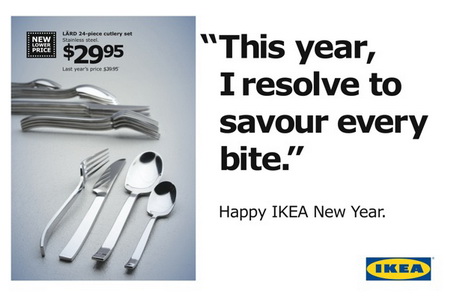 Photo: IKEA 2013 catalog page, from www.campaignbrief.com
Additionally, IKEA's the development arm Landprop announced this month that it's building a car-free community in Hamburg, Germany, says FastCoExist. Earlier, the company unveiled its plans to build a  vehicle-free community outside London. IKEA is also intended to roll out an affordable boutique chain in Europe.