The article is written by David Rogers, owner of packaging and brand design consultancy We Are Pure
When it comes to business growth during tough economical times, there are certainly arguments both for and against. Whilst some are battening down the hatches and riding out the storm, others are throwing caution to the wind and pushing forward.
When it comes to growth opportunities, I think that it is fair to say that some people are a little blinkered.
The industry in the UK may be unpredictable at the moment to say the least, but that does not create an impenetrable barrier for moving your business forward. There are opportunities out there, but it takes the ability to look beyond the confines of the domestic market.
I believe there is somewhat of a size complex when it comes to operating on an international scale, with some thinking that only the 'big boys' are capable of doing it. In my opinion, that is simply not the case. If you have talent, an adaptable nature and sound business acumen, then you can be successful in other parts of the world, regardless of the number of people behind you.
I am speaking from experience here as I have recently opened the doors to We Are Pure's first office outside of the UK and we are hardly of epic proportions size-wise.
Russia has proven to be extremely lucrative for us over the last few years, and to take that to the next level we really needed to have a permanent presence in the country.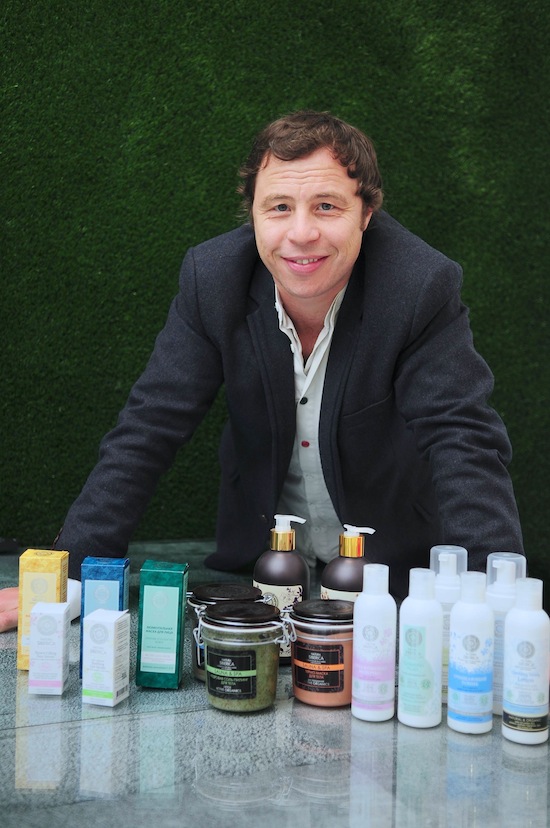 Photo: David Rogers in front of the Natura Siberica cosmetics range
There has been the distinct emergence of a new middle class in Russia who all crave western goods. As such, Russian manufacturers are looking to bring a western influence to their own products through design, which is where we come in.
We are lucky enough to have been working alongside Russian companies for the past six years and we currently count three of the country's most recognisable brands amongst our client portfolio — Slavyanka, one of the biggest names in Russia's confectionery sector, leading health and beauty manufacturer Pervoe Reshenie, and beauty specialist Tasha Beauty.
The consultancy has enjoyed success, as we were able to spot a need for our services in another country. It took a lot of research and legwork, but we saw an opportunity and grabbed on to it with both hands.
With enquiries from Russian businesses coming in on an almost daily basis, the decision was made to open an office in central Moscow. We are initially employing a three-strong team of Russian nationals, led by Boris Mihin, a marketing expert with 10 years experience in the Russian FMCG industry, and Ekaterina Shesternina, a branding specialist, with MA Marketing from London Metropolitan University.
I did not want just a token Russian phone number. I wanted an actual office staffed by an experienced Russian team, who can work seamlessly with my team of seven in the UK. Boris is certainly the man to lead the operation for me, having undertaken high profile marketing projects with Russian FMCG holding company Russkiye Producty and a number of confectionery producers. Meanwhile Katya has strong branding experience in the Russian market, being involved on such projects as convenience store start-up E.D.A. and the launch of cognac Slavyanoskiy.
My advice here is that if you are going to make your debut on the international stage, then it is worth taking your time, making an investment and doing it properly, building the right team, no matter how big or small, around you along the way.
We are just starting out with a physical presence in Russia, so I have no facts or figures to report. I am, however, confident of success and, to be honest, I would not have made such a huge leap if I had not been.
What I am aiming to show is that a team may be small in numbers, but if it is big on talent, creativity, innovation and passion, then it can stand head and shoulders above the rest, facilitating growth for the company and helping it to shine through some of the financial gloom.
About the Author

David Rogers is the owner and creative partner of Nottingham-based packaging and brand design consultancy We Are Pure, which works with some major national brands such as Unilever, Trevor Sorbie and Blockbuster and many international/local brands, specifically, in Russia.