Nike, which has always been  motivating people to run through various activities including 'Alice spots' and 'I would run to you' video, launches the 2012 season of its We Run race series, which connects runners around the world. The forth We Run series offers almost 7 million Nike+ community members inspirational new technology and products.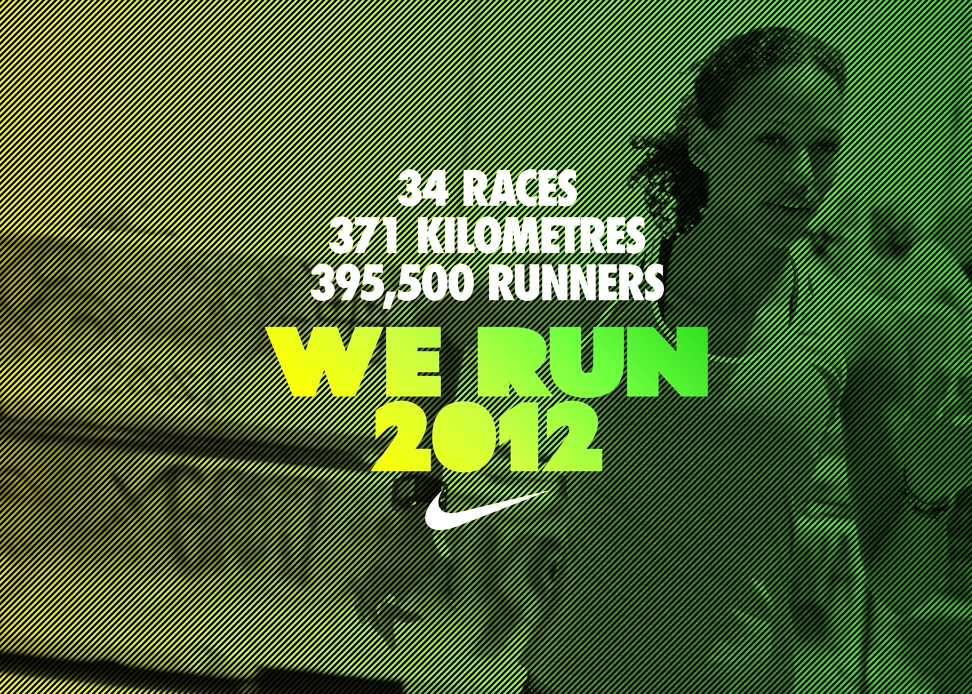 Photo: Nike We Run 2012, clickable
We Run season starts on September 1 in Prague, Czech Republic and will literally run in 34 cities till the conclusion on December 15 with races in Rio de Janeiro, Brasil, and Santiago, Chile, after touching 395,500 runners. For 2012 series, Nike has developed an engaging, months-long training and competition experience.
The Nike+ ecosystem membres will be able to share their experiences, track their running progress and meet challenges. The redesigned Nike+ Running App for iPhone and Android, nikeplus.com, and the range of Nike+ running products including the Nike+ SportWatch GPS Powered by TomTom, the Nike+ FuelBand and Nike+ Sportband are the key products runners can use.
Additionally, many We Run markets will offer other ways for runners to digitally enhance their experiences.  For example, runners will be able to use a special Google search activation that will allow them to see the moment they cross the finish line. Photo booths at pre-race expos with instant photo sharing will provide runners with a tool to broadcast online.
At races, Nike teams with athletes, local musicians and personalities will entertain public and engage communities. Post-race concerts and multi-media events feature renowned musicians, DJs and artists will celebrate the We Run series. 
«Serving the unique demands of young runners – you will find the experiences being more fun, digital, cultural and social. Running is always at the core, but what surrounds it is a truly unique experience that inspires and engages the runner in an authentic and distinctive way,» says Arturo Nunez, Marketing Director for Nike Emerging Markets.

Photo: Nike We Run 2012, infographics, clickable