A Worldwide Olympic Partner Procter & Gamble has announced a grant of $50,000 to fund youth sports programs targeting children with physical disabilities. This is a part of the company's support of the Paralympic Games and the grant is donated to the United States Olympic Committee's (USOC) P&G Team USA Youth Sports Fund.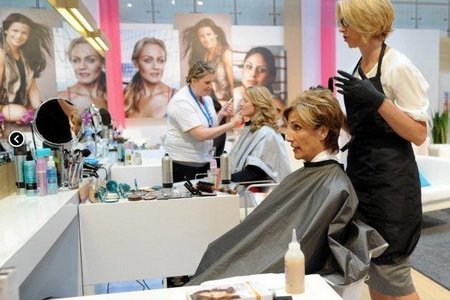 Photo: Rita Wieber, mom of U.S. gymnast Jordyn Wieber undergoes
a color treatment by Clairol in the P&G Salon at the P&G U.S. Family Home, from Facebook
P&G's Olympics 'Thank you, Mom' campaign is also extended to support moms of U.S. Paralympians with the gift of a $1,000 Visa reward card to help offset the travel costs of athletes' families to the London 2012 Paralympic Games. P&G brands including Pantene, CoverGirl, Gillette and Clairol also provide their beauty services such as haircuts, styling, make-up treatments and manicures for moms and families of U.S. Paralympians while in London. Athletes will also be treated in such a salon in the Athlete Village. There will also be a dental clinic with services provided by Crest and Oral-B.
"The story of raising a Paralympic athlete is so inspirational to us.  Every family has a story about the obstacles they have overcome in raising a world-class athlete," said Jodi Allen, P&G Vice President North America, and herself a mother of four. "We've heard time and time again from moms of kids with a physical disability that all they want is for their kids to have the same opportunities others get. And this includes having better access to community sports programs.  After listening to these parents, we've decided to help."
The grant will support The United States Association of Blind Athletes (USABA), which will go toward the organization's 'Sport 4 All' initiative to provide recreational and competitive sport opportunities for youth who are blind and visually impaired. The grant will also go to the US Club Sitting Volleyball to help expand grassroots clinics and support the first annual sitting volleyball summer camp for disabled youth.
The P&G Paralympic Games marketing campaign will also roll out in social media.