Stella Artois, a beer brand known for its devotion for cinematograph, now is launching a bursary scheme in association with Picturehouse Cinemas. The bursaries will support a series of standout film events over the next six months.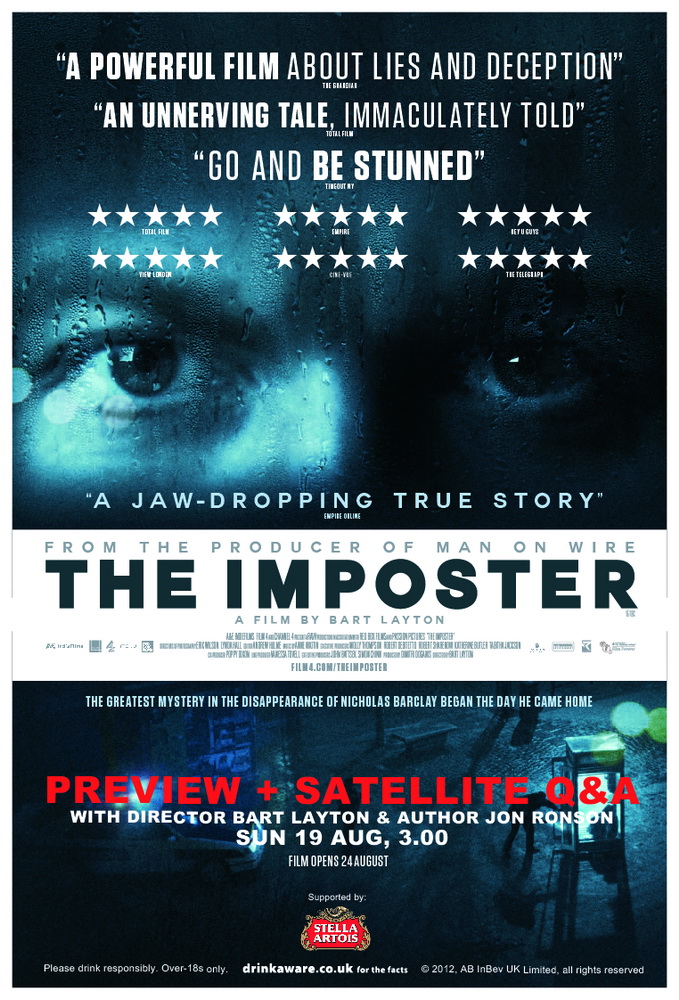 Photo: The Imposter bill, clickable
The initiative is aimed to reward creative talents as well as help people to experience movies in the best way. For example, there will be a series of Q&A events and film premieres and previews at Picturehouse Cinemas till the end of the year. Fans will be able to win tickets at the Stella Artois UK Facebook page, a digital hub of the Stella Artois Cannes Cinema Club that was launched earlier this year.
"Our bursary scheme endeavours to keep the beauty of cinema alive by creating unique film events that film fans can appreciate and enjoy nationwide" said James Watson, Marketing Director, Stella Artois Western Europe. "Our ongoing partnership with Picturehouse Cinemas reflects our long-standing support of great film and film makers and provides the opportunity to make standout film events like this happen which otherwise may not have been possible."
The initiative kicks off on August 19 at Hackney Picturehouse Cinema with a Q&A event and screening of the upcoming real-life thriller, The Imposter, directed by Bart Layton. It will be a satellite broadcast to over 30 cinemas before the film's UK public release.
Film specialists, elevenfiftyfive help choose those filmmakers who receive the bursaries and the application process is still open.