This year the executive creative body of ABSOLUT VODKA company, Absolut Art Bureau, has partnered with the quinquennial exhibition of modern and contemporary art dOCUMENTA (13), which has taken place from June 9 to September 16 in Kassel, Germany, as well as become a sponsor and supporter of another art event Art 43 Basel in Switzerland.
As a Patron of the event, ABSOLUT has supported the Maybe Center for Conviviality and unveiled a new unique meeting place there —a new arty hub called the Absolut Maybe Bar. The space was designed by two modern artists Ryan Gander and Mario García Torres who also shared interest in mixology.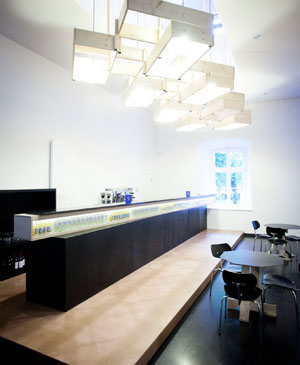 Photo: The Absolut Bar at dOCUMENTA (13) exhibition
Photo: Mario García Torres (left) and Ryan Gander (right), the artists behind The Absolut Bar concept
Another Absolut bar called The Kirlian (or simply the Abosolut Art Bar) was presented this summer at another artistic venue Art 43 Basel in Switzerland, which Absolut will be sponsoring for the next three years. The concept of the bar was created by Canadian-born Berlin artist Jeremy Shaw who used, as he describes it, a photographic technique that exposes the magnetic field, or «aura» of the depicted object.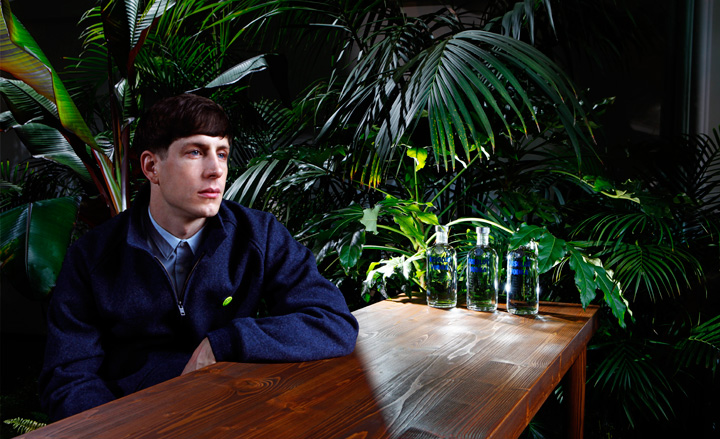 Photo: Jeremy Shaw in the 'jungles' of the Kirlian Bar

Video: performance of light and sound in the Kirlian Bar
As part of the collaboration with dOCUMENTA (13) this summer,  Absolut Art Bureau has continued its ongoing project ABSOLUT QUESTIONS —a series of short interviews with renowned artists, curators, writers, thinkers, museum directors, and art enthusiasts from around the world, who surprisingly answered some 'disarmingly simple' questions about art.  Among interviewees there are some well-established names such as Iacopo Seri, the Italian conceptual artist;  Berlin-based creator Jeremy Shaw, who fuses photography, video, sculpture and music in his works; London-based architect and urban planner Ryan Gander, the recipient of the Zurich art prize and a participant in the 2011 Venice Biennale; András Szántó, the New York-based, Budapest-born writer, researcher, and cultural consultant is the Principal Advisor of the Absolut Art Bureau; Peter Doroshenko, a curator, writer, and lecturer on art, is executive director of the Dallas Contemporary; German artist Heinz Mack, the co-founder of the ZEROgroup; Swedish art writer Lars Nittve; Okwui Enwezor, the Nigerian-born curator, critic, editor, exhibition organizer along with some others.
Watch the interviews here: www.absolutartbureau.com/absolut-questions
Another important outcome of ABSOLUT's collaboration with dOCUMENTA (13) this year was the announcement of a new format for the Absolut Art Award, which was instituted in 2009 to mark 30 years of creative collaborations with more than 500 artists since the first experience with Andy Warhol. There are three main changes to the format of the Absolut Art Award:
1. The introduction of two categories: 'art work' and the new one —'art writing'.  Both  the writer and artist winners will be prized with EUR 20,000, while artist's production budget will be risen up to EUR 100,000 and the writer's —up to EUR 25,000 to be used for the publication and distribution of a new publication. Both category winners will get a lifetime supply of Absolut vodka (for continuous inspiration, most probably).
2. Both artist and writer winners will be given an opportunity to create their «dream project».
3. A hybrid selection process combining open and closed nomination techniques, which means that more artists and writers can be nominated for the prize.
More information on the new rules of Absolut Art Award 2013, as well as all ongoing and upcoming Absolut Art Bureau's initiatives can be found on www.absolutartbureau.com/absolut-art-award/.