Green is an everlasting trend influencing the performance of virtually any brand and company, which want to develop a positive image around the globe. Traditionally, leading an eco-oriented life implies a number of activities, such as recycling or skipping to water (energy, air)-saving technologies or just encouraging people to switch off the light when they leave the room, etc., and in fact there're no new territories to explore here. What's really interesting here is the way brands realize these goals—some approaches are old and tried, but some are quite innovative and are continue the path towards making the life of a consumer greener. Let's take a look at the eco-oriented projects, practices and activations, launched by global brands in summer 2012 season.
Wear green
Would you choose a 100% cotton, silk or wool piece of clothing instead of a 100% acrylic or nylon one? For sure, your answer will be "yes." When we talk about ecological apparel, we usually not only consider the fabric itself (is it artificial or not?), but also keep in mind the ways it was produced. Both casual and sportswear brands (Levi's, adidas, Nike, PUMA) as well as some fashion houses are striving to make their products more eco-oriented to fulfill the needs of consumers looking for more ethical clothing. Recently, adidas has introduced the innovative DryDye technology, which allows dyeing fabric using carbon dioxide (CO2) rather than water. "It takes 1 Mediterranean Sea every 2 years to color the world's clothing," says the brand, and notes that with the new approach the use of water can be dramatically reduced. In addition, the adidas DryDye technology uses 50% less energy and 50% fewer chemicals.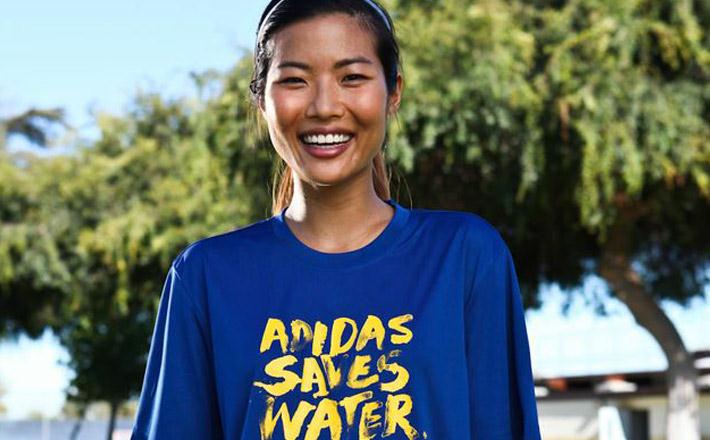 Photo: adidas DryDye t-shirt
While eco-oriented clothing is traditionally associated with brands which produce everyday affordable clothing, luxury brands also pay attention to the green movement in its lines. Gucci released a line of Sustainable Soles collection for him and her, designed by Frida Giannini, Gucci's creative director. The line includes footwear, which is biodegradable and combines the brand's approach to making fashion closer to nature. "This new project conveys the House's mission to interpret in a responsible way the modern consumer's desire for sustainable fashion products, all the while maintaining the balance between the timeless values of style and utmost quality with an ever-growing green vision," stated the brand on the page of the collection.
The most widely-spread eco approach is using old or recycled materials to produce new clothing items. Espirit made its own contribution to the movement with the launch of the new collection manufactured from its own collected and recycled cotton denim cuts and recycled PET, plus the items were not re-dyed to highlight the piece's background.
Eat and drink green  
Probably the biggest sector producing waste in the consumer products market is the food and drinks sector. Technically, this is not the manufacturer's which generates waste, but people who buy these goods and send the packaging to the landfills, but still it's the brand's problem. In mid-summer, Coca-Cola collaborated with will.i.am to launch a new initiative, Ecocycle, to tell consumers that things they are using—from cans and containers to apparel and accessories—now may become part of new things in the future thanks to recycling.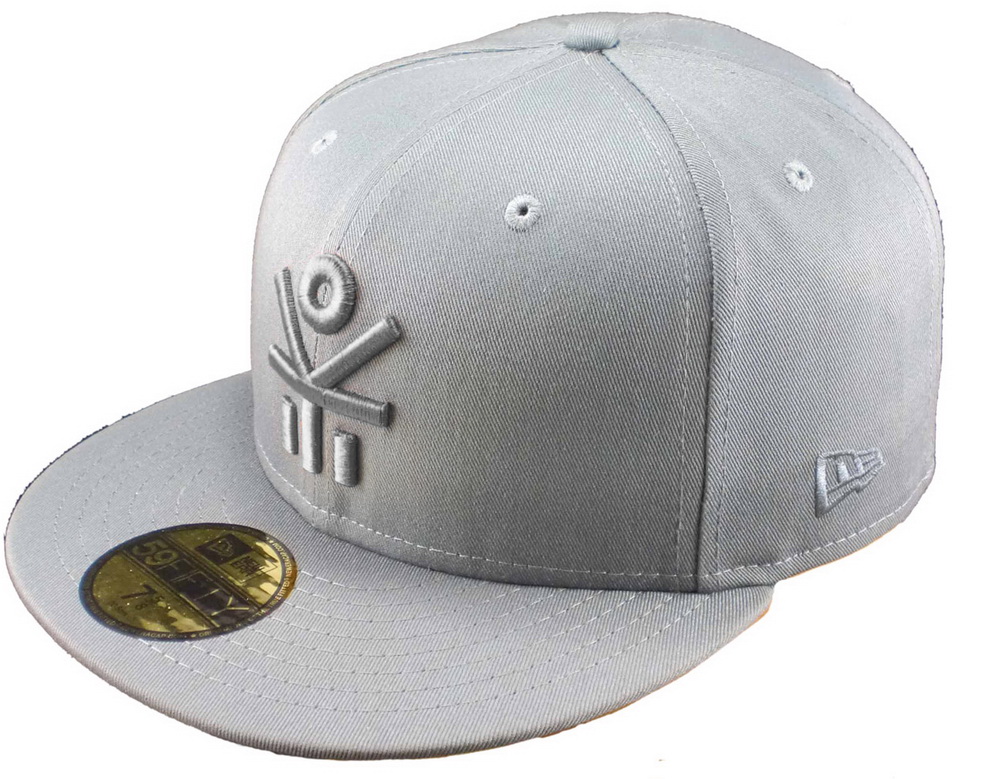 Photo: ECOCYCLE cap, clickable
The special label helps determine products that can be recycled or were made from recycled materials. Starbucks, Nestle, Pepsi and Coca-Cola are among the most active brands in tackling the packaging waste problems with their recycling programs and machines, but they are not the only ones. In late May, Unilever's PG Tips brand launched an initiative revolving around used tea-bags—the manufacturer encouraged people in the UK to take care of the used tea bags. In fact, it was not PG Tips' recycling program, the brand just motivated people with its mascot, knitted Monkey, which was featured on posters and encouraged public to react to the call of two Essex councils, Brentwood and Chelmsford, together with Wrap the government's advisory body on waste, and composite their bags with food waste.
McDonald's has adopted green lifestyle—literally—by announcing its plans to open its first-ever all-vegetarian restaurant in India. The fast food chain known for its beef burgers changed for vegetables in the country, where a large part of population traditionally don't consume meat, so the company decided to turn one of its restaurants to green next year. The details on the new approach are not unveiled yet, but in fact fewer power and water resources are behind veggie menu, so this move can be considered sustainable as well.
The above-mentioned Starbucks continues to deliver green changes to the life of its consumers. The coffee chain introduced EarthSleeve for its cups, saving of nearly 100 thousand trees. The sleeves, which were rolled out in Canada and the USA, have 34% less raw fiber and the post-consumer content there is increased by 25%. http://popsop.com/57236 Another initiative by the brand didn't touch on the consumers in a direct way, still helped make the Starbucks venues greener—the program based on Lucid's 'Business Dashboard' platform  launched in 10 Starbucks stores in Snohomish County, has been serving "to test and document measurable energy savings in retail locations," stated the press release. This 30-day program encouraged Starbucks employees to determine conservation strategies that would potentially reduce the amount of energy required to run their stores, without affecting customer service.
Drive green
Today, when the auto technologies are becoming more eco-oriented month after month, and virtually any car brand strives to leverage its strengths and engineering skills to benefit environment, it's nearly impossible to keep track of all innovations and programs in this area. So, Popsop will mention just a few of them, starting with BMW's recently launched initiative dubbed X1 Restore the Outdoors. Through the dedicated page on Facebook, the social good program called Americans to make their communities a literally greener place to live by liking photos of predetermined locations—the company gives a buck for each like and these money will be donated to the specific outdoor places (parks, beaches, forests and recreational locations across the country) to help maintain them. The auto giant also announced an innovative mobile parking solution called ParkNow, which is designed to tackle the problems of parking in San-Francisco—it will helps drivers easily find a parking space and reduce fuel usage.
Another auto manufacturer, Ford, unveiled a green 2013 Ford Fusion, which is created using post-consumer materials and vegetables. "Denim material equivalent to slightly more than two average-sized pairs of blue jeans, 38.9 clear plastic 16-ounce recycled bottles, and about 31,250 soybeans" were used to manufacture a car, says the brand.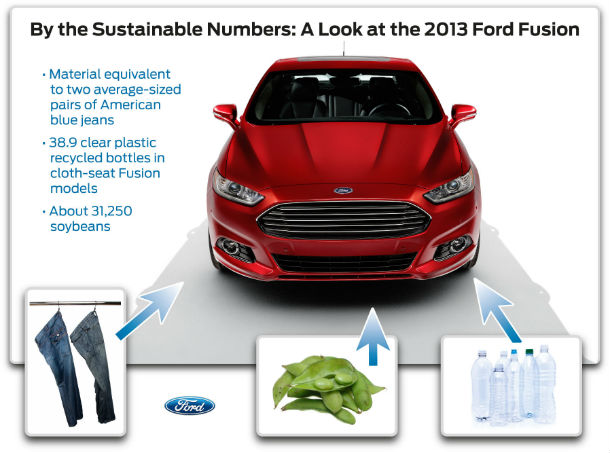 Photo: The green 2013 Ford Fusion
Of course, there were many other projects, which also contributed to spreading the green ethics across the globe. The major companies unveiled new ratings to help consumers make eco-conscious choices (the AT&T mobile device rating) or to make their own performance greener (as Procter&Gamble), or providing people tips and suggestions on how to infuse people's homes with sustainability (LG).
The consumer's attitude to products is becoming more and more sophisticated. First, we wanted just quality goods and didn't care much about the origin, and now people tend to but not only organic products from sustainable materials and they do want to get involved into the process of utilizing the packaging in the greenest way. We do not only want to consume, but we also want to be responsible for the impact of using the products since the results of the previous ignorant consumer behavior is already here, just outside our houses in all these huge landfills and polluted air. A consumer of new generation is a person who re-uses, re-fills, re-cycles and re-structures, building a new re-world based on the previous one.