Google and Cirque du Soleil are unveiling a stunning online experience, which mirrors the circus's unparalleled approach to making miracles by going beyond the laws of physics as well as the limits of a human body's abilities. The new online project dubbed Movi.Kanti.Revo (which means "moving, singing and dreaming" in Esperanto) takes the audience into the dimension where magic happens to them. All you need to become part of this stunning sensory Chrome experiment is to follow the link in a browser that supports WebRTC, like Chrome plus have a microphone and a camera on your computer device. You can get into the whole thing even if you don't have a cam and a mic, but they definitely add more fun to the experience.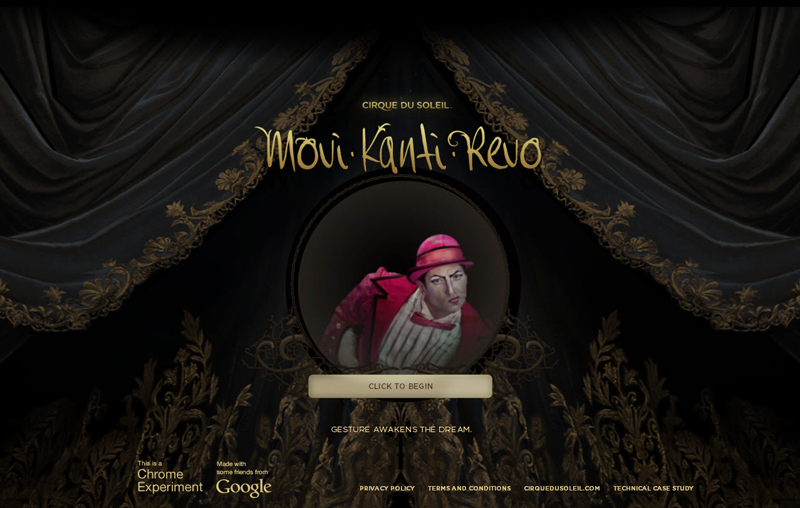 Photo: A snapshot from the loading page of the Monti.Kanti.Revo experiment (Click to enlarge)
"In the experiment, you can follow a mysterious character through a beautiful and surreal world to encounter enchanting Cirque du Soleil performances and live an emotional journey made of love, doubts, hopes and dreams," says the Google Blog. The new Google's experiment, developed by Subatomic Systems, is a brilliant example of an interactive online activity—with just your gestures and voice, you can navigate through the website, coming across fairy-tale creatures, who are showing their acrobatic skills in the mysterious environment. This project is part of Chrome's well-known experiments, which merge latest digital technologies with a great narrative component to deliver stunning experience to users.
The team behind Movi.Kanti.Revo unveils all the details on the work in professional blogs, enabling other developers to learn more about the project and use some tips to create their future pieces. "To bring the creativity of Cirque du Soleil to the browser, we mixed traditional HTML and CSS with 3D transitions and HTML5 APIs," writes Google Blog. The developers unveil more technical secrets in Chromium blog and a technical case study.