Philips, being a sponsor and technical partner of the event, has launched a creative contest for young Russian lighting designers called "Laboratory of Light" as part of The Second Moscow International Festival of Light, which is to take place in Russia's capital on September 28 – October 2, 2012 at four major cultural platforms: the Red Sqaure, the Gorky Park of Culture and Leisure, the Central House of Artist "Tsentralniy Dom Khudozhnika", and the Central Exhibition Hall "Manezh".
To take part in the "Laboratory of Light" design competition, which had been open for entries since August 2012, students were tasked to create their lighting art objects, multimedia lighting installations which revealed some unparalleled powerful ideas and brought inspiration (using sponsored Philips lighting equipment).
Eight international judges have evaluated the submissions and selected three winners in the 'Street Lighting Installation' category, whose works will be showcased as part of the festival in the Park Muzeon. They are:
1) Ekaterina Petrova with the work "Into the Light", which implies the concept "Open the Unknown, Reveal the Future".  The light here symbolizes new knowledge, progress and a new world. The guests and spectator are welcome to come into the virtual door to "reveal the future";


Photo: Into the Light, the 1st winning project
2) Yuriy Tsepliayev with the work "A Lively Coloured City". This concept shows a universal collective image of a metropolitan city with its generalized features such as skyscrapers, highways and rivers. The visual effects of light translate the spirit of this city, showing how lively it is at night, yet ordinary and calm in a day light.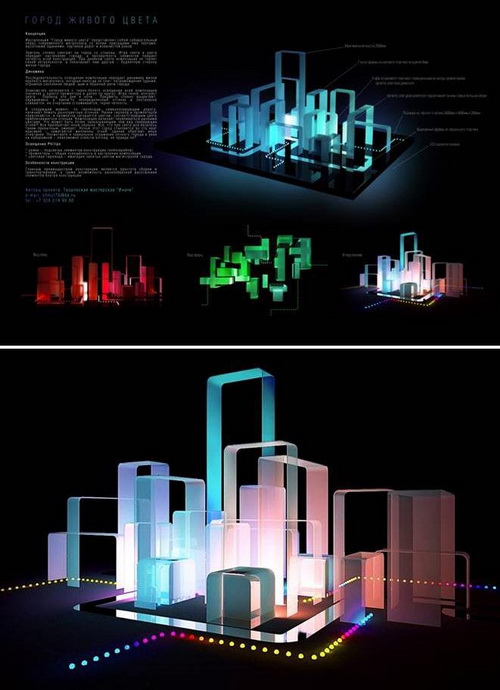 Photo: A lively coloured city, the 2nd winning work
3) Polina Rodkevich with the work 'Spitfire'. The idea behind this installation was to show the spitfire in action through multicoloured layers of light flowing down the construction as if it were incandescent lava.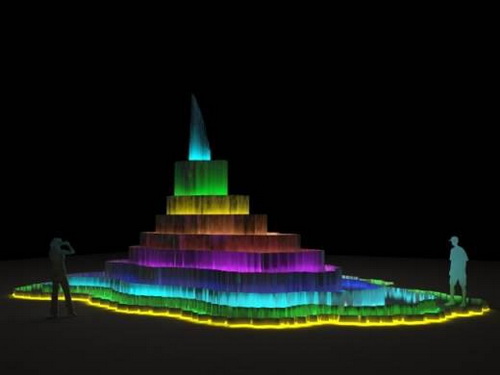 Photo: The Spitfire, the 3rd winning work
The Circle of Light Festival opening ceremony will take place at the Red Square on 28 of September and encompass different multimedia programs, lighting installations, audiovisual interactive laser shows, along with an International "Art Vision" Video Mapping Competition and a creative "Laboratory of Light".
Another attention getting creative experiment by Philips was a recent movie, a digital project "The Sound of Creation", unveiled earlier in September.