A category trendsetter and one of the most innovative consumer companies in the US, Starbucks has tapped into quite a competitive market of coffee pods systems for brewing at home, dominated by Kraft Foods' Tassimo, Nestle's Nespresso and Sara Lee's Senseo.
Verismo ™, a new Starbucks's brand of a single-cup coffee machines, which brew milk-based coffee beverages (with no real milk, actually) from branded pods is an addition to the company's long list of innovative products and projects, from introduced back in 2009 'ready brew' instant Starbucks VIA, to most recent projects such as investing into a mobile payment startup Square and introducing on the go coffee vending machines in the UK earlier this September.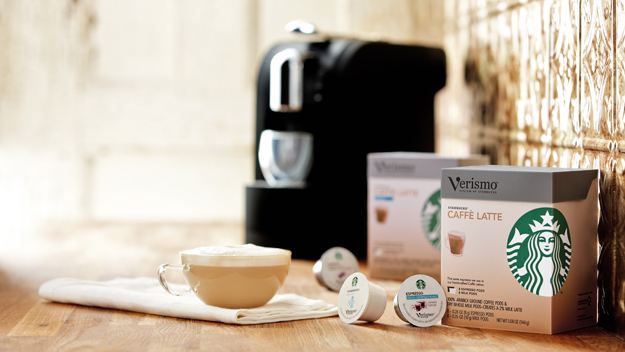 Photo: Coffee pods system from Starbucks, Verismo, www.starbucksstore.com
The Starbucks spokesperson commented on the Verismo ™ launch "From the very beginning, we have offered coffee for at-home brewing, so this is not new for Starbucks. We are always innovating and staying relevant, and premium single cup is what customers are seeking for at-home brewing today."
Unlike rival Nespresso machines, Verismo makes milky latte using just Latte Pods (containing 2% dry milk) and  hot water with only one push of a button. Now the Verismo machine is available at $199 at the US online store in 4 colours and £149.00 at the UK store.
Fresh ground coffee pods market saw a triple digit growth (523%) in the USA from 2006 to 2011 and now is expected to lead within the coffee category from 2011 to 2016 with off-trade volume growth of 74%, according to Euromonitor research as of June 2012.