Combining e-commerce and social sharing, Zappos, Amazon's online store has created a new service that recommends consumers what to buy based on what people post on Pinterest.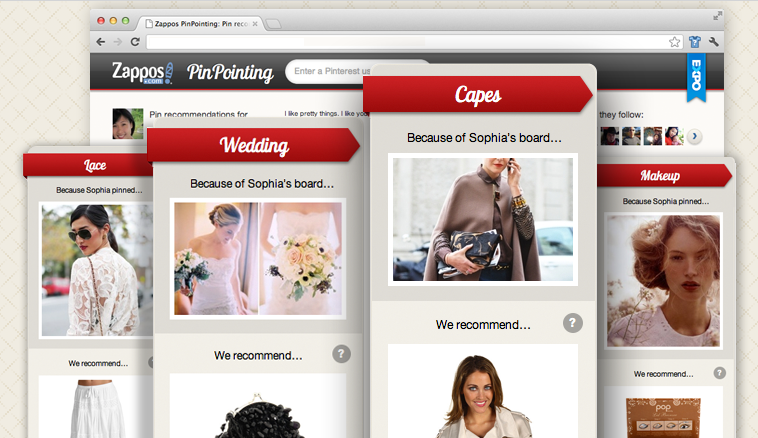 Photo: PinPointing interface, from pinpointing.apps.zappos.com, clickable
Zappos consumers can share what they buy through Facebook, Twitter and Pinterest. The new project created by a team at Zappos Labs is called PinPointing and is designed to draw parallels between users' personal pins and those of other Pinterest users, and then to suggest appropriate Zappos products such as shoes, dresses and swimsuits, reports Bloomberg. Using one of the most popular social web platforms, Zappos expands the borders of e-commerce and promotes not only shoes but other products it sells.
"Social shopping is a total buzzword that people throw around, but I don't think any big brands have cracked it," said Will Young, director of Zappos Labs. "When we talk to people and ask what they think is the best social-shopping experience, they say Pinterest, and it's not even a retailer."
Zappos has got approval from Pinterest for the PinPointing site but it doesn't mean that the companies have signed an official partnership.
According to Young, though consumers share more often on Pinterest than on Facebook and Twitter, sales from Pinterest posts contribute the smallest amount of revenue. He added that posts on Twitter generated the most revenue, which is an average of $33.66 an order and Facebook posts resulted in $2.08 per order, while sales from Pinterest were mostly just 75 cents. In December, Zappos launched its iPad app.