To let people communicate with each other not only virtually, Facebook is rolling out a new Gifts service allowing users send small real gifts like chocolate, Starbucks gift card or teddy bears to one another.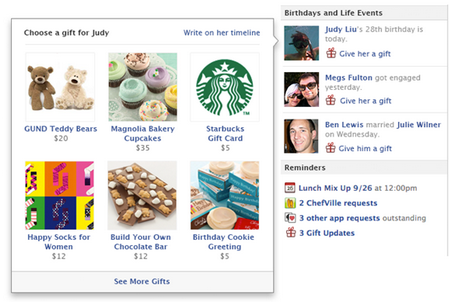 Photo: Facebook Gifts app, from Facebook, clickable
Facebook Gifts is now available for users in the U.S. and is gradually coming to other markets over the next months. To choose a gift for their friends, users can click on a 'gifts' icon on their Facebook friends' pages or on Android mobile phones. The No.1 2012 Breakaway brand is currently working on the apps for iPhone and iPad.
Facebook Gifts icon will also appear on the right side of users' Facebook pages. It will show up if your friend's birthday is coming up and you'll be able to choose a gift for this person by clicking on a special link.
The first companies that agreed to try out the new service include Starbucks, cupcake firm Magnolia Bakery and teddy bear retailer Gund, says Marketing Magazine.
If recipients don't like the present, they will be able exchange gifts for other items and sometimes they can select their own size and style of socks, for example. To receive a present, recipients should enter a shipping address. Some security experts say that unveiling such private information may threaten users' homes and cause burglaries, reports PC World.
The service is being developed by a San Francisco-based company Karma acquired by Facebook in May. Karma developed a mobile app to let people send gifts to their friends on the go.

Photo: Facebook Gifts app, from Facebook, clickable