The massive storm Sandy left the New York along with many parts of the eastern United States devastated these days. The hurricane killed at least 50 people and thousands ended up knocked out of their normal life since the disaster caused floods, blackouts and driving millions of losses for insuring companies. While millions of citizens in the area are trying to get over the disaster, brands are also contributing to the recovery—in their ways.
Red Cross has launched a tab on Facebook to generate financial support for Sandy's victims, encouraging users to donate money for buying food, providing shelter and donor blood to those who saw the worst side of the disaster.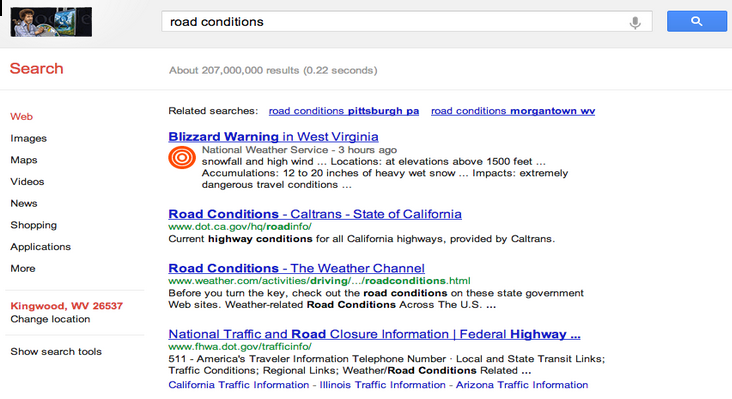 Photo: Google Public Alerts, click to enlarge
Google created a crisis map for hurricane Sandy and also has rolled out so-called Public Alerts on Maps and Search, which "provide warnings for natural disasters and emergency situations. They appear based on targeted Google searches, such as [Superstorm Sandy], or with location-based search queries like [New York]" to keep people informed on the current situation in the area. To get the latest breaking news on Hurricane Sandy as it goes along the east coast, go to the LIVE Superstorm Sandy Coverage on The Weather Channel on YouTube.
Some brands provide financial donations to support those who were heavily impacted during the storm. For instance, Abbott Laboratories, Allstate, Kellogg's and PepsiCo provided grants to Feeding America, which coordinates food, water and disaster-relief support to the impacted zone. Beverage companies, including Coca-Cola, PepsiCo and Nestle Waters, donated bottled water to disaster-relief agencies. "The PepsiCo Foundation is providing $500,000 to the American Red Cross as part of its annual disaster giving program," AdAge reports. A number of brands, including Taco Bell and Google (with its Nexus), have to reschedule their promotion events for later and close stores for some time.
Still, for some marketers the hurricane became a great theme for advertising. For instance, American Apparel offered "20% off everything for the next 36 hours"—with this move, it wants to entertain its fans, "in case you're bored during the storm.»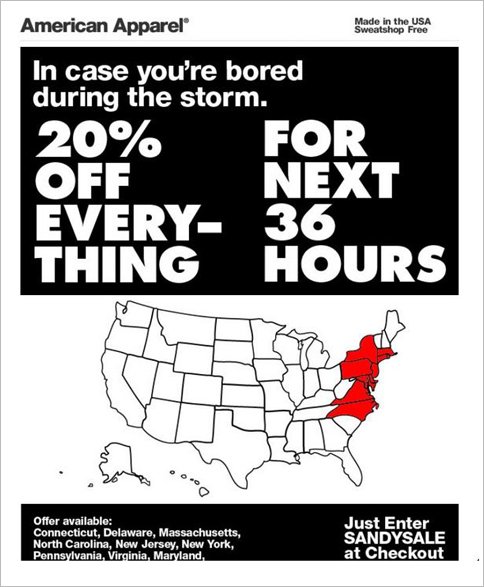 Photo: Hurricane Sandy-themed American Apparel advertising, click to enlarge
Gap has also invited shoppers to visit the brand's stores, starting the message with the "All impacted, stay safe" phrase. The first brand didn't apologies for the ad, while the second one posted a semi-apology on Twitter.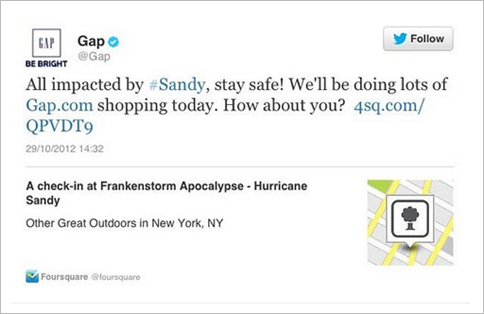 Photo: Hurricane Sandy-themed tweet by Gap, click to enlarge