AXE (Lynx) is well-known for its controversial campaigns, touching on the most personal themes, primarily about man-woman relationship. A few days ago, the brand has launched a nice poster in Hong Kong claiming that Lynx can turn a lesbian into a straight girl with just a few blasts of the body spray onto a male's body. The promotion developed by BBH Asia Pacific in Singapore for the Hong Kong market builds on the announcement made by real-estate tycoon Cecil Chao, who offers HK $500 million dollars ($65 million US) to a guy who will turn his lesbian daughter Gigi into a straight gal.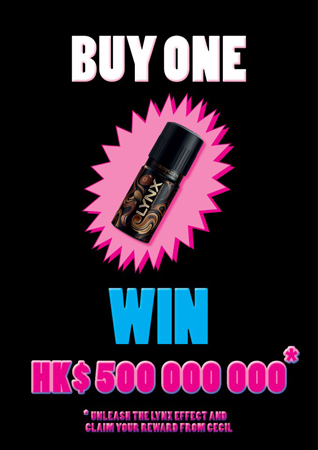 Photo: A Lynx «contest» poster, www.facebook.com/lynxHK
The poster appeared on the Lynx Effect Hong Kong Facebook page on Monday, encouraging guys to "Buy one Lynx, Win HK $500 000 000 (Unleash the Lynx effect and claim your reward from Cecil)." In fact, this is a new-impossible mission, since 33-year old Gigi Chao is very sure about her choice, and even married a woman named Sean Eav in France earlier this year. After Mr Chao promised to award the man who can successfully woo his daughter.
"People are contacting me on Facebook, by email, on Twitter. It's ridiculous. I can't sort out the serious proposals from the half-hearted ones. I can't make head or tail of it," commented Gigi to The Daily Telegraph. "Some of them had obviously done their research, you know, gone on my Facebook and looked at my background. Some of them are quite poetic. At first I was entertained by it, and then that entertainment turned into the realisation and conviction that I am a really lucky girl to have such a loving daddy, because it's really sweet of him to do something like this as an expression of his fatherly love."
It's not the first time Lynx taking advantage of scandals, involving well-recognized faces. In summer, the brand released two prints related to Prince Harry's naked appearance in Las Vegas this summer.