Mondelēz International, the maker of chocolate, biscuits, gum and candy that launched this week is celebrating its birthday with events around the world. Last week it was known under the title Kraft Foods but after spinning off its North American grocery business on October 1 changed its name to Mondelēz. The name was proposed by Kraft in March.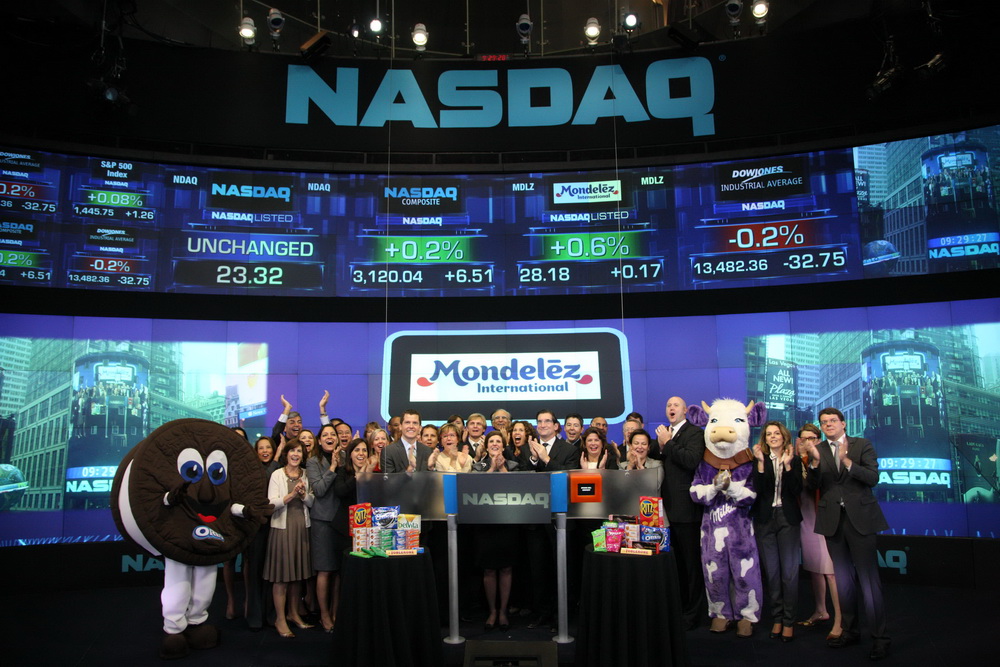 Photo: Mondelēz International team on The NASDAQ Global Select Market, clickable
The new company is devoted to "creating delicious moments of joy". To tell it everyone, Mondelēz International held a special event in New York City's Times Square. Thousands of passers by had the chance to try their favorite Mondelēz products for free.
The company continues to produce the most popular in the world food and beverages including Cadbury, Jacobs, LU, Milka, Nabisco, Oreo, Tang and Trident and changes its marketing strategy to include mobile advertising.
"The future of digital IS mobile, and as the new Mondelēz International, we know that if we are going to be a leader in consumer engagement in the near future, we have to challenge ourselves to think more broadly about how we connect with our consumers and at the same time, embrace and drive marketing innovation from within the company," wrote  Bonin Bough, Vice President of Global Media and Ed Kaczmarek, Director of Innovation & Emerging Technology in a blogpost.
The importance of mobile is underestimated by marketers, states Mondelēz. Today, people spend more than 23 percent of their daily media consumption time with mobile, but brands give less than one percent of their overall budgets to this medium.
Mondelēz sets the goal to become one of the top mobile marketers in the world. The company plans to invest 10 percent of its global marketing budget in mobile and a new program called Mobile Futures. To reach the goal the company is intended to act like a start-up and partner with start-ups to create new mobile ventures. Next week Mondelēz starts to search for mobile technologies to implement them to their mobile ad campaigns of 10 brands within 90 days, from scratch. Mondelēz then hopes to find angel investors and venture capitalists to secure seed funding.