To celebrate the upcoming launch of the famous computer game Halo 4, PepsiCo's Mountain Dew and Doritos brands have announced that Double XP comes back. The platform offers gamers to create an account at dewxp.com or doritosxp.com where they'll be able to unlock and load future XP matches, reveal ultra-new gear and weapons and more.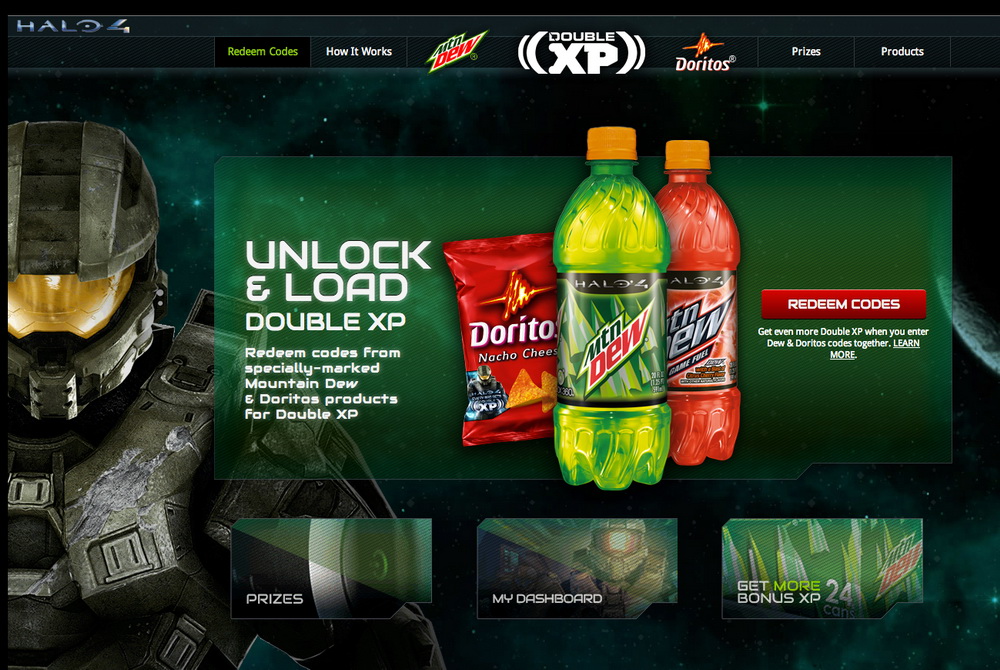 Photo: Double XP screenshot, clickable
For the first time, players will be able to select their arsenal before entering starting to play and customize their armor. Double XP will enhance the gaming experience.
Along Double XP the gamers' favorite citrus cherry flavored Mountain Dew Game Fuel is also back later this month, though for a limited time.
To register, fans should buy specially-marked packages of Dew and bags of Doritos chips and enter the on-pack codes to their account. When Halo 4 is released on November 6, fans will be able pushing Double XP matches to their Xbox LIVE Gamer tag via the dedicated websites.
Other recent Mountain Dew promotional projects include the collaboration with musician Lil Wayne and support of 'The Dark Knight Rises' movie.
«Gaming is in the DNA of Dew Nation,» said Brett O'Brien, Vice President of Marketing for Mountain Dew.  «We know gamers bring an awesome amount of passion to Dew, and we're excited to help them level-up their Halo experience like never before thanks to Double XP.»


Photo: Mountain Dew Game Fuel, clickable