Social networks have become one of the most preferred platforms for launching new campaigns, but marketers do want to know how effective their promotions in such media are. To help brands measure the impact of their promotions  through Twitter Promoted Products, the micro-blogging service has teamed up with Nielsen—together, they have developed a "newest tool for our advertising partners, brand impact measurement for Twitter."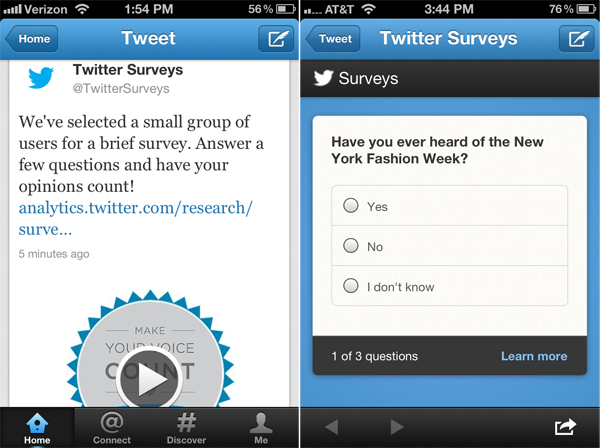 Photo: A screenshot of the survey on Twitter, www.advertising.twitter.com (click to enlarge)
"This is a native experience for the user, and we believe it will give brands better insights to determine purchase intent, overall awareness, and other advertising metrics and analytics that can lead to greater engagement on Twitter," says the Twitter blog. The new solution will help discover what the Twitterians really think of the brands' activity on the platform so that the marketers will be able to adjust the promotions to reach maximum impact.
The surveys by Nielsen will appear within the user's timeline as tweets from @TwitterSurveys, there will be no difference between these messages and the Promoted Tweets. Users will not have to leave their Twitter page to fill out a survey, so the new addition won't take out from their micro-blogging environment.
So far, Twitter is testing the new feature with just a few advertisers, but it plans to make it available to a bigger number of partners in early 2013. Last year, Nielsen, the company which offers audience and consumer-generated media measurement and analysis, collaborated with Facebook to measure the impact of its ads.