Procter & Gamble celebrates the fourth year its official sponsorship of the National Football League (NFL) by launching an online platform called Fan-cestry.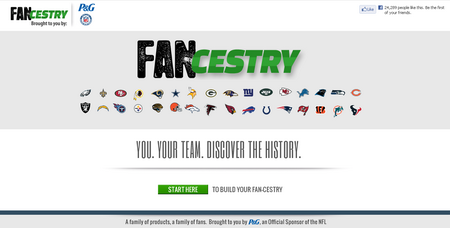 Photo: a snapshot from Fan-cestry.com
Football fans can build and share their personal fan history—memorable events, game rituals etc—and see how they are connected to their favorite NFL team. The web site features the 'Official Locker Room Products of the NFL' including brands sponsoring the Fan-cestry program: Duracell, Gillette, Head & Shoulders, Old Spice, and Tide.
Participating fans will have their own infographic where the fans' lives will be paralleled with the events in their NFL team's history. The infographic, that can be shared on Twitter by using #fancestry, is called Fan-cestry. Throughout the NFL season people will be able to add new content to their Fan-cestry in real time.
P&G will also give participating fans a chance to win tickets to Super Bowl XLVII in New Orleans.
Two years ago, P&G engaged fans with 'Take it to the House' platform that offered exclusive content and tips for fans and had a strong presence on Facebook.
"America's favorite P&G brands are engaging fans of America's favorite sport in a way that is relevant and meaningful to them," said Anne Westbrook, Communications Leader, U.S. Sports Marketing at P&G. "Fan-cestry is a platform to unite all types of NFL fans, from those who have never attended a game to those who live and breathe their team colors. These fans share a common bond of loyalty and fandom for the sport, and that is what Fan-cestry is all about."