Renault is going to give a Renault Mégane Hatch Diesel vehicle to an Australian, who manages to find the car on a virtual map of the country. To celebrate the new 0% finance rate on selected models in Australia through December 16, the brand has launched "Zero In," an online-game, which is supported by a massive campaign including TV, DM, print and outdoor promotional elements.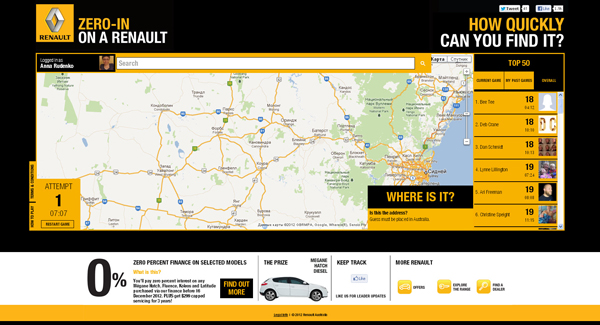 Photo: A screenshot from the www.renaultzero.com.au website (click to enlarge)
The campaign, developed by the Naked agency, is inviting consumers to use all their logic and intuition to discover the car. Once you've chosen the spot, drop the Mégane car maker on the map and press to have your attempt. The attempts are ranked on the leaderboard, so by analyzing the rankings, one may finally find the car. Renault will award the vehicle to the player, who has found a car with the least number of attempts by October 31.
"We like to add a little joie de vivre to everything we do here at Renault. This game is a highly addictive, but incredibly fun way to celebrate the ultimate gift, 0% finance," commented Chris Bayman, Renault Australia marketing director.