Diesel celebrates life beyond the web by launching a new international initiative, which is linked to the re-launch of the YUK Pre-Internet shoe from 1993. The brand is encouraging its fans to get disconnected from their social media life for at least three days for a chance to win shoes from Diesel. "Stop sharing things online for three days and you could win 20 pairs of shoes! Select Facebook to participate, add Twitter and Instagram to complete the challenge faster," calls Diesel. Get back to the pre-Internet time, when life was also cool, go do various real things, meet different people and have real offline fun just it was two decades ago.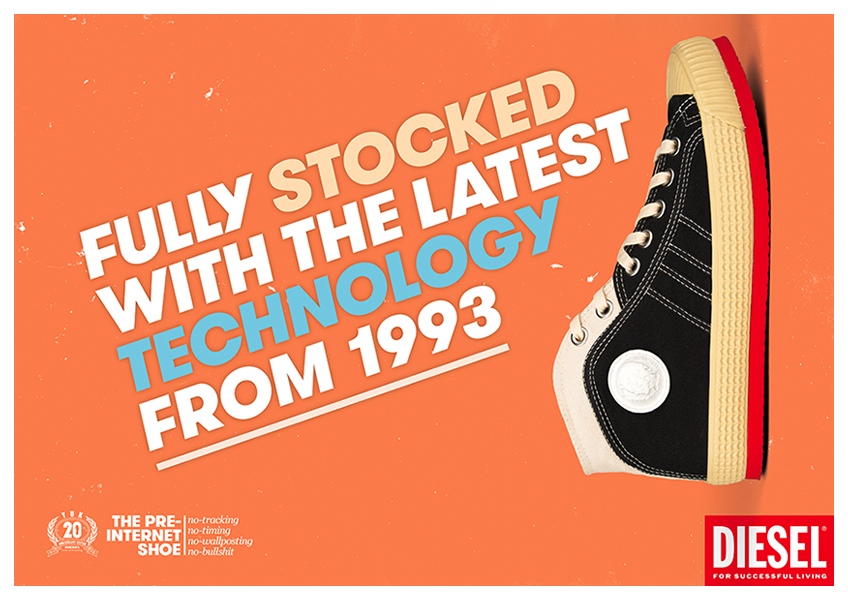 Pic. Pre-Internet YUK shoe poster (click to enlarge), www.diesel.com/yuk
To join the initiative, which runs from November 12, 2012 to January 12, 2013, users from around the globe are invited to go to the dedicated page, where they can find the pledge form. They are asked to accept the challenge by promising not to post on Facebook (Twitter and Instagram, too, if chosen by the user) for three days. Once you click the "Go Offline" button, Diesel posts an announcement message to your FB timeline saying "[Name] is enjoying a pre-internet experience and has gone offline for a couple of days. But don't despair, she/he is probably going places, doing things, meeting people and having fun." The brand has also revealed a series of visuals as well as a ironic video (below) dedicated to the shoes, which are just shoes, not your brain on your feet (can you smell a slight take on Nike and adidas?).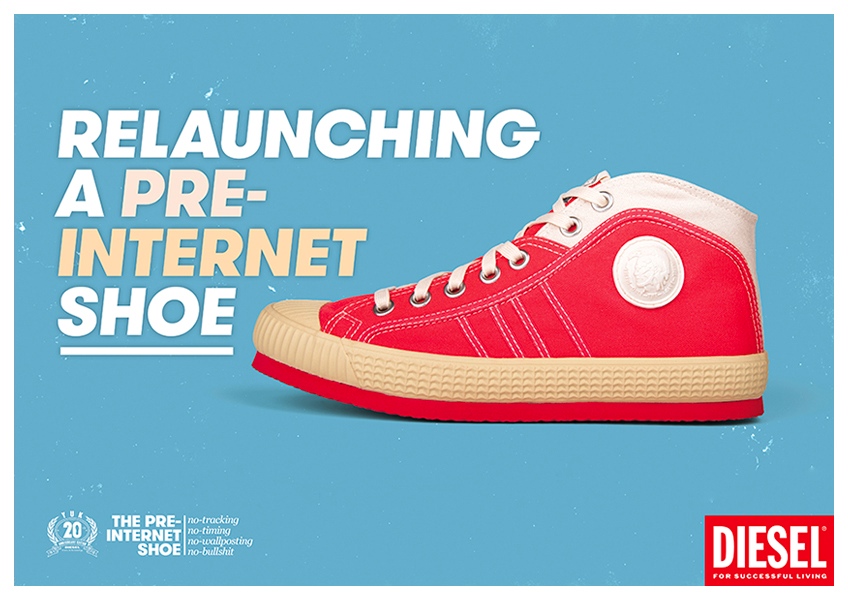 Pic. Pre-Internet YUK shoe poster (click to enlarge), www.diesel.com/yuk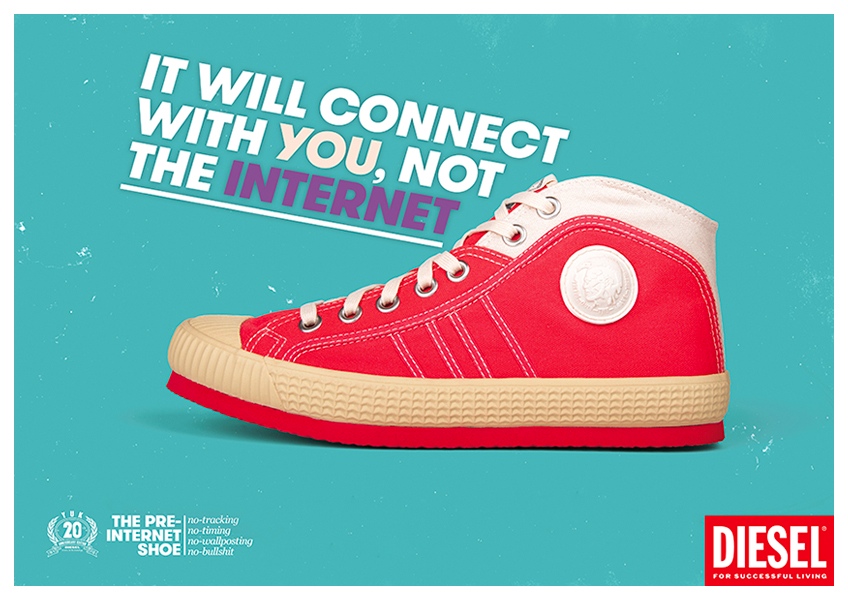 Pic. Pre-Internet YUK shoe poster (click to enlarge), www.diesel.com/yuk
In addition, the brand is posting a series of informational visuals with the #daystolive hashtag on Facebook, which tell users how much time in their life average people spend on different stupid things including talking to intimate objects, deleting spam, dreaming of being a superhero, etc. Diesel continues to encourage its fans to make more of their live by living it to the fullest. Back in 2010, the brand teamed up with Fiat to launch a hilarious campaign titled "Disconnect," calling people to get out of the web to experience great things in the real settings.