Heineken teamed up with LA-based retail store Union LA and fashion designer Mark McNairy to create a new stunning product as part of the ongoing creative "Heineken 100" project. Together they have created a new  kelly green colorway for McNairy's classic saddle shoe as part of the program, which mission is to champion "Men of the World," visionaries and tastemakers.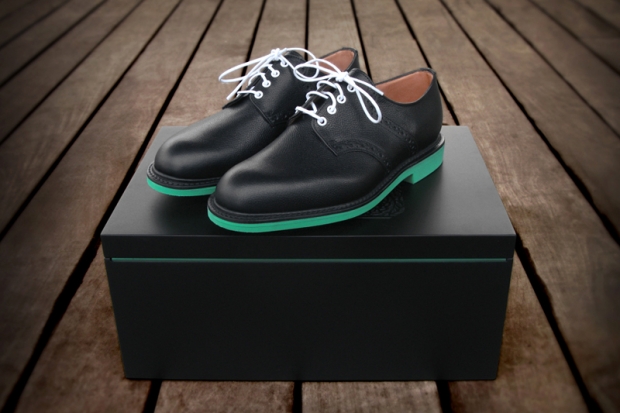 Photo: The «Heineken 100» shoe created in collaboration with Union LA and Mark McNairy (click to enlarge), www.hypebeast.com
"This shoe was chosen for the collaboration because, like Heineken, it is a perfect fusion of classic, traditional, modern and progressive. The all black leather shoe with a classic silhouette features a modern twist by incorporating a cushioned sole in Heineken green," states the brand in the press release. The program, which is now in its third year, is celebrating people who represent Heineken's "Man of the World" philosophy, which also underlies the brand's marketing initiatives. Commenting on the collaboration with the new contributors, Olga Osminkina, Senior Brand Director, HEINEKEN USA, says, "Mark and Chris [owner of Union LA] truly exemplify Heineken's consumer, a 'Man of the World' that is forward thinking, savvy and enjoys worldly experiences."
The previous addition to the "Heineken 100" range was a bag created by Public School and unveiled in October 2012. The collection of collaborative items also includes Ariel 7 headphones, Tsovet watches, Union LA t-shirts, Android Homme sneakers, New Era fitted caps as well as tote bags designed by fashion duo Dee & Ricky.