This fall, Nike unveils a new collection of footwear and clothing created in collaboration with the world's most expensive football (soccer) player Cristiano Ronaldo, which fully reflects the athlete's attitude to sport and life: «Love to win, hate to lose».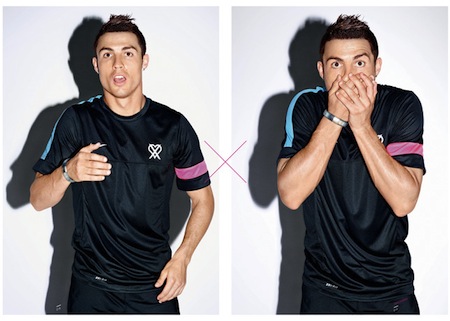 Photo: from the Nike CR7 Collection's look book
Bold and irreverent, each piece of the collection features logo of a heart slashed by an X, wich embodies Criastiano's philosophy of the winner, attitude of a perfectionist.
Cristiano's signature CR Mercurial Vapor VIII boot has been re-introduced in classic black and white color palette.
The new Nike CR7 also includes such items as short-sleeve top, Mercurial shin guards, CR Nike 5 Gato shoes,  a backpack and Prestige ball, plus crew neck sweatshirts, button-down Saturday Jacket, leather drawstrings, The Track Jacket, Wardour Max 1 chukka boots and more.
View the full look book here.
Cristiano Ronaldo tells (in Portugese) what inspired him to create this collection.
And here Andy Caine, Nike Football Creative Director, talks about the insights and inspiration behind Cristiano's new collection: