As the Black Friday rush in the US and Canada is over and the official Christmas shopping frenzy is almost there in the Catholic (and, frankly, all the remaining) world, retailers and brands are looking to make the most of this holiday season in every possible channel: physical stores and malls, on the web, on mobile devices and even in social media. This brief research is to explore the ways we've been doing shopping since the Roman Empire to our days and track the evolution of shopper mindsets in the 21st century.
A bit of retrospective
The word 'shopping' comes from the Middle English shoppe or, according to an alternative source, from the Old English sceoppa, which meant then, as well as it does now, the process of making purchases.
Shopping as a social phenomena is believed to emerge at the same time with money and trade as such, with the first-ever shopping lists complied by ancient Romans in 150 A.D.
From tiny street markets and dirty bazaars to supermarkets and huge shopping malls, it took retail, as we know it, a while (about nine centuries) to become one of the most profitable businesses and create whole new industries and areas of knowledge.
In mid-90s Internet changed the face of retail once and forever. The online shopping pioneers Amazon and eBay, launched at the time when Internet was used by less than 1% of the planet's population, invested heavily in the future of retail and introduced a new term — e-commerce, which meant, as well as it does now, the process of making a purchase via Internet using various electronic payment systems.
And while marketers have been busy discussing the clash of physical retail vs online retail, a new term and shopping-related social behavior has recently emerged: so-called showrooming, when customers come to the real store to experience some product and then go back home and order it online at a lower price. According to the latest Edgell's research, physical retail in the US has been negatively impacted by an average of 5% because of showrooming, decreasing sales in this channel.
In 13 years after Amazon, with the boom of smartphones and the birth of Facebook, another 'shades' of e-commerce came into play: so-called m- and f-commerce, respectively, became the new mantra for digitally-savvy marketers.
Arguing on the effectiveness of Facebook as a retail platform and f-commerce as a channel generating sales, experts rather view it with skepticism. Some, like Wade Gerten of 8th Bridge, CEO of a social shopping software company, tend to differ specific Facebook-enabled services such as Storefronts, which now seem to fail, from the very nature of Facebook along with other social media (especially, a rising social media star Pinterest) to empower people to promote some products or services voluntarily, making online shopping more social than ever. Thus, here another term comes — s-commerce or social commerce, which is driven solely by people's will to fairly recommend and promote some products or services in social media — a perfect example of 'digital' word of mouth, which has proved to be stronger than classic ads.
So, will traditional shopping die in favor of new multimedia platforms and how do the latter influence shopper mindsets?
Statistics and a number of shopper behavior and insight researches show the opposite. The 'splintered' modern retail has produced a broad variety of choices, thus a complex multi-platform mix of both traditional, online, mobile and social shopping has emerged. Interestingly, the growth rate of traditional retail since 2002 through to 2011 is estimated by J.P.Morgan's experts to be over 200%, while the dynamics of e-commerce growth, according to this calculation is more modest.
According to the latest quantitative shopper research by FITCH conducted in 7 countries (Brazil, Russia, India, China, UK, USA and UAE), which polled 7,250 respondents of different age, income and region about the shopping habits across three popular categories (electronics, groceries, fashion apparel), most shoppers still want to go shopping in-store (54% vs 7 % of those, who prefer s-commerce) and see it as a pleasure (47%) rather than routine (11%).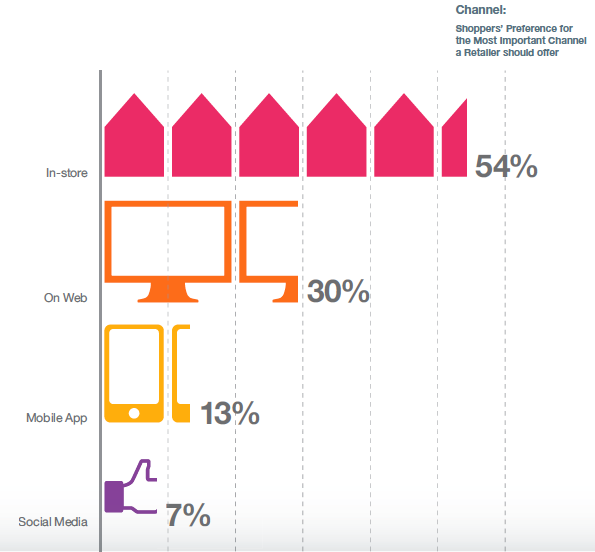 Pic. Shopper preferences by channel, FITCH's diagram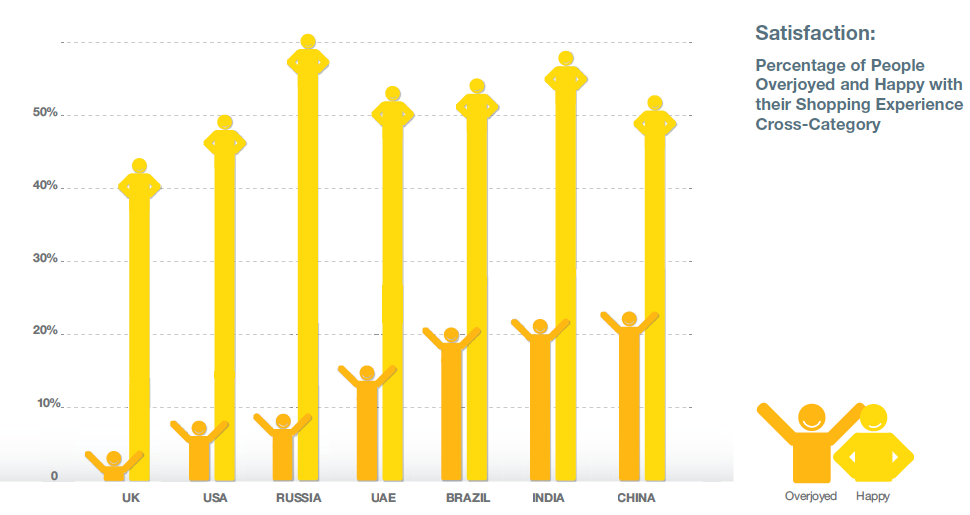 Pic. Shoppers' level of satisfaction, FITCH's diagram
However, attitude to shopping as a social behavior and the level of satisfaction with it differs by country. Shoppers from developing countries show more enthusiasm and joy in shopping than respondents from the developed markets. While the number of people who rather do not enjoy shopping and see it as a chore is the highest in such countries as the UK and the USA.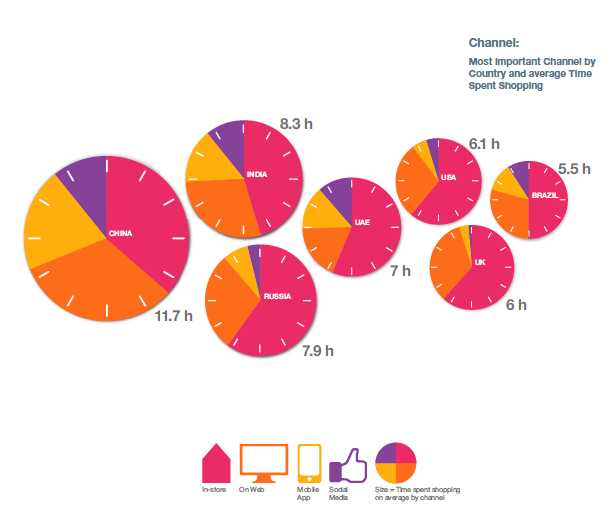 Pic. Average time spent by shoppers in different channels, FITCH's diagram
Retailers, get ready for a Store 3.0 model
Despite the fact that most shoppers, overall, still prefer physical retail to so-called virtual experiences, FITCH's survey reveals that at the same time they "want something different when they get there".  This requires retailers to develop an integrated and rich seamless experience for shoppers who prefer to drift between in-store and online worlds.
Deloitte analysts call this model a Store 3.0™ — a store of tomorrow, which offers a seamless retail experience and is aimed to evolve shopper attitudes and expectations, while keep loyalty. 39 retail executives across the globe, polled for this research in 2011, thought that that was the future of retail. FITCH seems to prove the point: seamless retail strategies are the winning ones.