Yesterday in Berlin, the honoured jury named the recipient of the first PUMA.Creative Impact Award, which was founded by the lifestyle and sports brand PUMA and British-American not-for-profit foundation BRITDOC to celebrate those documentaries, which have the most positive social and environmental impact.
The winner is a movie entitled Budrus, directed by the award-winning Brazilian filmmaker Julia Bacha of Just Vision, the organization behind this project and its outreach campaign. The movie tells a story of the leader of a small Palestinian village Budrus and his 15 year old daughter, who united both parties— Israelis and Palestinians—in an unarmed protest against destruction of their olive gardens and separation by Israel's Separation Barrier in 2003.
In the two and a half years since Budres was released, this film has truly reframed the conversation of Palestinian resistance in the context of the political situation and raised awareness of nonviolence as an effective method of securing peace for Palestinians and Israelis.
Here Julia talks about the film and its mission on TED conference:
Another finalist, Josh Fox granted a Special Jury Commendation for his documentary Gasland created in a genre of investigative journalism. Josh personally visited communities in 24 US states affected by the aggressive fracking, shot the film and now uses it as a tool to lobby for moratoriums, creating a popular movement for environmental change.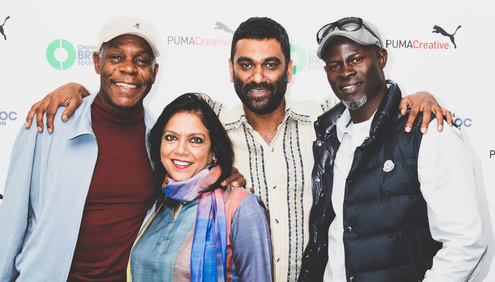 Photo. Four of five judges at PUMA.Creative Impact Award
Overall, there were 3 more documentaries nominated for the award: Armadillo, Bag It, and Weapon of War. The panel of judges was represented by Hollywood actors and activists Danny Glover and Djimon Hounsou, director Mira Nair, writer and activist Jemima Khan, Executive Director of Greenpeace International Kumi Naidoo.
PUMA.Creative Impact Award is a one-of-a-kind € 50,000 programme, founded as a result of collaboration between PUMA and BRITDOC foundation, which assesses documentary cinematography for its social impact irrespective of the production budget, artistic content and directorial talents, and reflects PUMA's Vision of being Fair, Honest, Positive and Creative in everything the brand does.