Following a much-discussed Red Bull sponsored Felix Baumgartner's space jump this October, the brand is launching another breath-taking and rather bizarre experiment: creates a video of the Rube Goldberg device made of the world's best extreme athletes.
For those, who are not fans of the old American cartoons, Rube Goldberg was a cartoonist and engineer who invented an overdesigned system which embraces a number of different mechanisms to fulfill a very simple task. So, Rube Goldberg machine means a very complicated system which can be substituted with one simple action.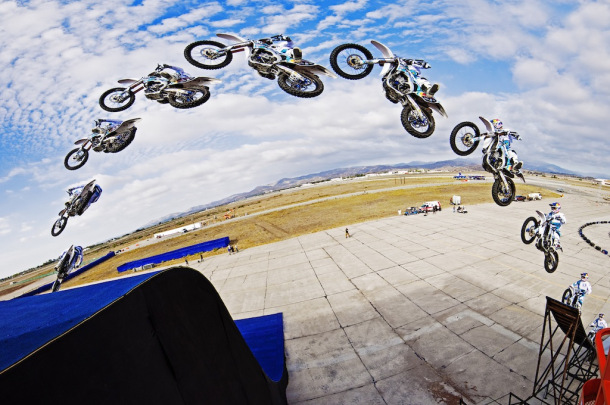 Pic. Still image from the video featuring Robbie Maddison's bike mini show
In Red Bull's case, the contraption uses not just inanimated mechanisms, but real people, athletes who ride a motorbike, skate or snowboard, drive a truck, play golf and do whatever it takes to complete a ridiculously simple mission — to open a can of a Red Bull energy drink.
The Red Bull Kluge video, which has got more than 8 million views on YouTube for less than a week, was filmed using 40 GoPro cameras, a helicopter, dozen of bikes, more than 100 person crew and tons of enthusiasm. It features 11 professional athletes: Sean MacCormac (Skydiver), Joey Brezinski (Skateboarder), Rickie Fowler (Golfer), Danny MacAskill (Trials Biker), Ryan Sheckler (Skateboarder), Drew Bezanson (BMX Rider), Bryce Menzies (Off-Road Truck Racer), Rhys Millen (Drifter), Robbie Maddison (Freestyle Motocross Rider), Lolo Jones (Hurdler) and Pat Moore (Snowboarder).
The stunt was shot by the Los Angeles-based digital agency Syyn Labs at the old El Toro Marine Corps Air Station near Irvine, California. Watch the experiment below:
Here you can watch behind the scene parts of the video and read more about the project.