Each year ahead of Christmas, Stella Artois, the beer brand connected with the holiday due to its history, unveils some special gifts to its loyal fans. To help people spread the merry spirit this year, Stella Artois US launched the Holiday Carole application on its Facebook page, which allows everyone to send a unique gift "that melds timeless elegance with modern technological sophistication to create a truly unparalleled experience." The brand created a video, in which a beautiful lady named Carole sings a holiday song to nobody else but you, the receiver of the video gift. Stella Artois fans also can go to the dedicated page on its website to enjoy the experience.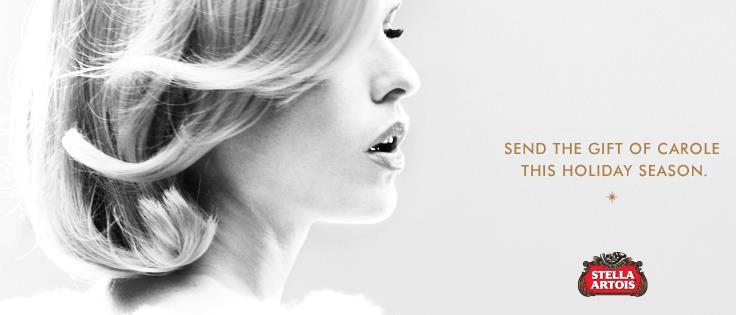 Pic. Stella Artois Holiday Carole, www.facebook.com/StellaArtoisUS
The storyline of the video, which is designed for personalizing, is simple: you enter your name (or the name of your friend), address and a holiday message, which then are "written down" into a note book of a beautiful signer, Carole. Then she gets into a car and the driver takes her to the house of the recipient, where she virtually signs a holiday carol at the front door, presents the card's receiver with a virtual Stella Artois limited-edition holiday bottle (a real signature 750ml bottle of the Belgian lager is already available in the US), which is then poured into a personalized Stella Artois chalice.
The brand used Google Street View and Maps technology creating this virtual experience, so the recipients see images of their own cities in towns in the video (of course, if they've entered their address correctly). The weather in the video is just perfect for a Christmas morning and the settings mirror the brand's passion toward the style of retro movies from the 60-s (by the way, in the clip Alice Eve, who played the lead, looks a bit like Marilyn Monroe).