As the new 2013 year approaches, JWT, one of the biggest global marketing comms agencies, has recently released its newest 8th trend report for 2013 —a 171-page white paper, encompassing the results of a year-long quantitative, qualitative and desk research conducted by JWTIntelligence in the U.S and U.K. Additionally, 70 JWT experts across more than 25 international markets were interviewed about technology, health and wellness, retail, media and science.
Rather predictably, JWT forecasts that 2013 is going to be the era of stress, where technology-empowered smart objects will rein over human beings (well, to some extent).
Top 10 Trends from 1st to 10th
Play As a Competitive Advantage: Gamification, the concept of applying game-design thinking to non-game applications and processes aiming to simplify them, will gain momentum in 2013. Those companies who use the power of play in both internal and consumer communications, will survive the competition.
The Super Stress Era: No wonder the information overload and extreme multi-tasking have been adding small chunks of suffering to our lives over the last 3-4 years. This trend will persist in 2013.
Intelligent Objects: Due to the continuous technological progress, everyday objects become smarter than their owners, be it a car, a laptop or a whole house equipped with a 'smart' technology to make life easier and stress-free.
Predictive Personalization: Segmentation, personalization and behavioral targeting will be more important than ever to any marketing communications with consumer on- or offline.
The Mobile Fingerprint: Our smartphones will become de facto fingerprints as they evolve into wallets, keys, health consultants and more—our identity all in one place.
Sensory Explosion: As we still experience the world through just 5 simple senses (touching, smelling, tasting, seeing and hearing), sensory marketing techniques will become trickier.
Everything Is Retail: Shopping is shifting from an activity that takes place in physical stores or online to a value exchange that can play out in multiple new and novel ways. Since almost anything can be a retail channel, thanks largely to mobile technology, brands must get increasingly creative in where and how they sell their goods.
Peer Power: As the peer-to-peer marketplace expands in size and scope—moving beyond goods to a wide range of services—it will increasingly upend major industries from hospitality and education to tourism and transportation.
Going Public in Private: In an era when living publicly is becoming the default, people are coming up with creative ways to carve out private spaces in their lives. Rather than rejecting today's ubiquitous social media and sharing tools outright, we're reaping all the benefits of maintaining a vibrant digital identity while gradually defining and managing a new notion of privacy for the 21st century.
Health & Happiness: Hand in Hand: As the awareness around the impact of stress and happiness on well-being rises, businesses will have to address it by focusing on health as a factor of happiness.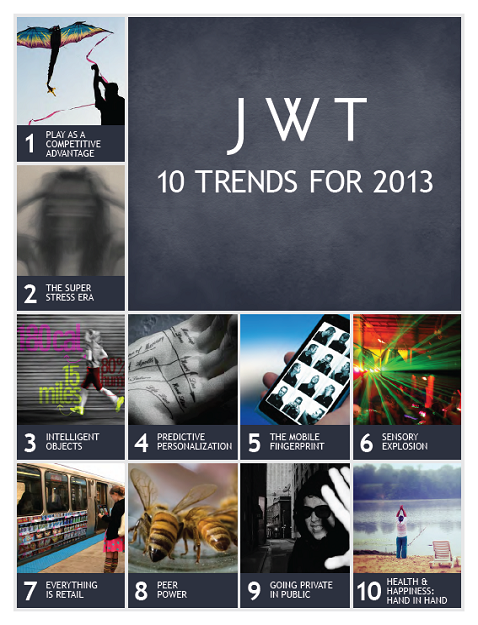 Pic. A cover picture for the JWT trend report 2013
If you'd like to learn more about how businesses will be driving, leveraging or counteracting technology's omnipresence in our lives, and how consumers will be responding to its pull in 2013, download the full report for $250 from JWT's website.