As technology and social media still continue to shape our socio-cultural and behavioral codes, ways of thinking and interacting with each other both at work and in personally, marketing, being the most sensitive sphere of knowledge, couldn't have been influenced by digital more. Throughout the year we've been spotting new entries in the ever-evolving marketing lexicon, which perfectly encapsulates the new trends and processes that have evolved during these months.
Although none of them have been added to any of the respected English language (British or American) dictionaries yet, these neologisms may come into widespread use (and some have already done so) across a variety of marketing publications in the year ahead.
New terms to watch from A to Z
1. Appscription, noun (from «application» + «prescription») — a new trend in the medical industry when consumers start to use tech (mobile apps in particular) to track, manage, monitor and improve their health. Usually in an informal and self-imposed way.
As the MobiHealthNews Research reports, as of April 2012 there were already more than 13,600 iPhone health and fitness apps available for consumers in Apple's AppStore.
This trend as well as a new word appscription were first mentioned in the 2012 research DIY Health conducted by trendwatching.com.
2. Citysumers, noun (from «city» + «consumers») — a new type of urban consumers which are more focused on experiences, more sophisticated, more demanding and more mature.
Urban consumption is seen to be different due to a constant choice, abundance and never-ending newness of the goods and services citysumers can have.
3. Churnalism, noun (from «churn» + «journalism») — a news article based closely on press release.
This term is neither related to marketing directly, nor new as such, however, has been largely brought up by both the U.S and U.K. media titles in 2012.
BBC journalist Waseem Zakir is believed to have coined this term in 2008 after a Guardian journalist Nick Davies reported a nationwide study, which found that 80% of the stories in Britain's quality press were not original and later covered it in his book «Flat Earth News».
Moreover, a dedicated platform has been created  to help distinguish journalism from churnalism: http://churnalism.com.
Churnalism is regarded to be a serious concern for the educational academia in Britain, and the upcoming CFI UK conference on December 15, 2012 in London will highlight the problem of journalism vs churnalism in the British national and world press.
4. Curiosity Quotient means the level of consumer interest your brand is naturally generating in the digitalsphere.
The term was invented by author and journalist Thomas L. Friedman back in 2007 along with a fictitious formula CQ + PQ > IQ, which explains that Curiosity Quotient combined with Passion Quotinent are greater than Intelligence Quotient.
5. Custowners, noun (from «customers» + «owners») — a new type of active and enthusiastic consumers who move from just passive consumption towards funding/investing (if not owning a stake) in the brands they buy from.
The term was coined by trendwatching.com, a global trendspotting firm, in their November 2012 Briefing, where you can read some related case studies and the research itself in detail.
6. (E)tail, noun (from «everywhere» + «retail») — a new type of retail which forms a continuous and seamless shopper experience both online, on mobile platforms, in social media and physical stores.
7.  Experience Crammers applies to description of a new consumer behavior. As consumption gets more temporary and transient, deconstructing products into shorter, easier to digest and affordable versions and makes it possible for consumers to collect even more experiences as often as possible.
8. Gamification, noun (from «game» + a part of nouns «-fication») — is the concept of applying game-design thinking to non-game applications to make them more fun and engaging, such as FourSquare which offers the chance to develop and retain customers locally through games that reward and give customers a reason to return again and again.
Although he term was coined in 2002 by a programmer Nick Pelling, it gained marketers' attention only in 2010-2011.
9. Goodvertising, noun (from «good» + «advertising») — a new approach to advertising based on 10 simple principles: Transparency, Connection, Simplicity, Collaboration, Passion, Creativity, Contagiousness, Generosity, Insight, and Full Commitment.
This is, probably, the newest term that was coined in 2012 by the author of the same-named book «Goodvertising: Creative Advertising That Cares», Thomas Kolster. The book was presented to the public at the Sustainable Brands Conference in London, November 27-28, 2012.
10. Meta-luxury, noun (from the prefix «meta» borrowed from Greek  + «luxury» ) — a new type of luxury which is beyond luxury.
This 'freshly-coined'  term was introduced earlier this year by the global branding firm Interbrand's executives Manfredi Ricca and Rebecca Robins in the new book "Meta-luxury: Brands and the Culture of Excellence", published in the USA and also available on Amazon.
Ricca and Robins contend that the term 'luxury' has been 'overexposed, overstretched and diluted' and coin the term 'meta-luxury' to recognize what is 'beyond' a word that is now devoid of meaning.
We've earlier covered meta-luxury in more detail here.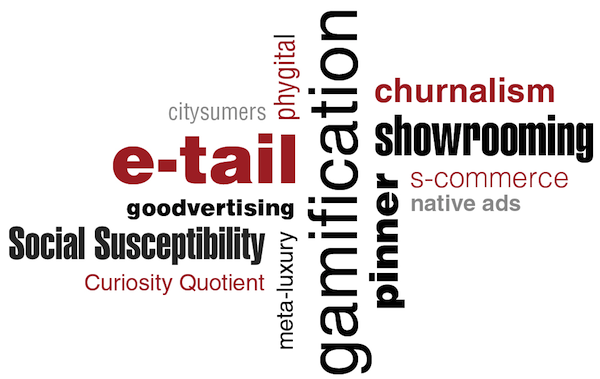 11. Native ads. Must be the «freshest» and the most overused buzzword in the advertising press over the last two months.
Ken Doctor, renowned American journalist and author of «Newsonomics» defines 'native ads' as a type of advertorial content, intermixing elements of journalism and commercial speech. As opposed to standard media ad formats such as banners and context ads, 'native ads' have been seen as an organic indigenous part of the web content, which is "linkable, sharable, findable, able to be Facebook-liked and tweeted."
Expert opinions on whether 'native ads' are any better than visual ones still differ.
12.  Phygital, adjective (from «physical» + «digital») — is an innovative method of taking digital experiences into the real world.
13. Pin, both a noun and a verb. Pinner, pinning — other forms.
This word with all its forms has been around in the English language for about nine centuries, however, has gained new meaning in 2011-2012 with the launch and fabulous growth of the second most popular social media platform Pinterest.
Coming in the footsteps of 'like' and 'tweet', 'to pin' now means to add a picture to one's Pinterest board.
14. Presumers, noun (from prefix «pre» (before) + «consumers») is a new type of consumers which like to get involved with, push, fund and promote products or services before they even are created.
The terms, with is very close to mentioned above 'custowners', derives from countless new crowdfunding platforms and new manufacturing technologies that are finally tipping into the mainstream in 2012. For more insights on presumers, read the trend watching.com's full research here.
15. Prosumers, noun (from «professional» + »consumers») — is a new type of consumers who are so proficient in researching their markets (powered by Internet) that they are almost professional.
16.  S-commerce, noun (from «social» + «commerce») — a type of e-commerce driven by social media. Some experts explain s-commerce as a general term which includes all online sales generated via Facebook, Twitter, Pinterest and other social media websites.
17. Showrooming, noun, means a specific shopper behavior, when customers come to the real store to experience some product and then go back home and order it online at a lower price.
We've covered this term as well as s-commerce in a previous article here.
18. Social Susceptibility. The term, coined by branding expert Robert Passikoff in his latest 2013 trend report, is used to describe the reaction of brands on consumers' communications related to the brand, which can be either positive, or more often negative or bland.
19. Stractical, adjective (from «strategic» + «tactical») is a new approach to delivering marketing campaigns, which combines tactical manner with strategic thinking at a time.
20. Social Feng Shui derives from the name of the Chinese art of determining the most propitious design of space to achieve the maximum harmony and bring good fortune. Ironically, in the digital marketing context the term means making sure that your social media presence is aligned.
Some of these new terms were spotted by Gavin Wheeler, Managing Director at WDMP, who kindly shared his insight with Popsop.