There hardly can be found a health-related occasion with a bigger resonance across the globe than World AIDS Day, December 1. The picture of HIV/AIDS is changing every year, now for better, but it is still far from being perfect, i.e. without the infection at all—scientists are planning to eliminate the pandemic by 2050.
Achieving such important goals definitely needs a lot of money, and most of the campaigns launched in the lead up to December 1 encourage people to donate some dollars. But not only that. People are also encouraged to unzip their souls, become more tolerant and learn important facts about the virus. In today's report, Popsop explores this year's biggest initiatives developed to raise awareness, unveil the real-time achievements in the field and inspire consumers (primarily from developed countries) to share their time and money for the big purpose.
The bigger the goal turns to be, the further it is. Still, this distance is not the worlds away, if the forces are united. "In 2011 more than half a million fewer people died from AIDS-related illnesses than six years earlier. It's a dramatic turning point. In 14 countries, AIDS-related deaths dropped by more than 50% between 2005 and 2011," writes UNAIDS World AIDS Day Report 2012 (explore the whole website, full of stunning infographics and priceless studies). While global political leaders, scientists, healthcare institutions and charities are supporting the cause on the governmenal (the USA's new roadmap to AIDS-free generation), scientific and treatment frontier, spreading awareness and preventing the HIV transmission is crucial.
The driving force of this change is younger generation, since they are more responding to the anti-AIDS calls and with their simple protective actions (using condoms, being more selective when choosing sexual partners, helping HIV-positive people be part of the society) are shaping the picture on all continents. "Between 2001 and 2011, prevalence of HIV—a proxy indicator of new HIV infections—fell by nearly 27% among young people aged 15-24 globally," adds the report. That's why the target audience of all AIDS-related campaigns is younger generation.
(RED) initiative is working for a positive impact throughout the year, with every day being December 1. On the World AIDS Day it delivered a special uniting experience to people across the globe by launching a digitally streamed "Dance (RED), Save Lives" concert with performances by Tiesto as well as DJs including Avicii, Laidback Luke, Calvin Harris, Martin Solveig and many more. (RED) also called the audience to donate for the cause through Crowdrise.com to help achieve the goal of AIDS free generation by 2015.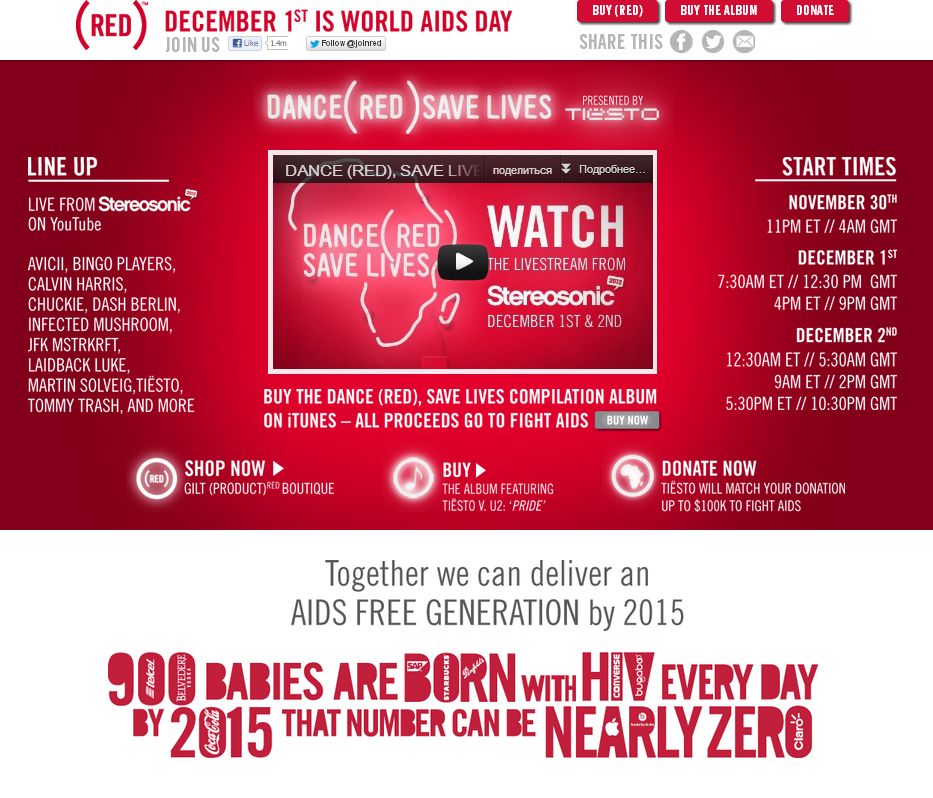 Pic. A snapshot from the www.joinred.com website
Tiesto and Laidback Luke "returned the favour" by following the donators' Twitter for 3 months, sending a personal "thank you" message (digital, paper or video) and more depending on the amount of donation. Plus, Tiesto pledged to double every donation (the first $100,000)—when this piece was published, the initiative gathered $7,312. In addition, anyone can contribute more by purchasing the DJ's exclusive compilation album, with all the proceeds going to (RED). In general, $195 million contributed to the Global Fund to fight HIV/AIDS through (RED) merchandise—below, you can watch how it all works.
Another organization focused on eliminating AIDS in the world, Bono's ONE, has launched the "It Starts with You" video series, which helps unite people from different parts of the planet. It calls people to record a short video message, answering the question "What moment in your life inspired you to join the fight against HIV/AIDS?" to be featured on a special YouTube channel (upload it here). ONE is also encouraging the audience to tell world leaders to step up the fight against AIDS—the petition has been signed by over 55,000 people (the goal is 100,000). Frankly, this doesn't seem to influence political leaders, still the initiative is great for consolidating global anti-AIDS grassroots movement and inspire action across the globe.
Durex has launched the health-benefitting 1share1condom initiative, which was developed to engage thousands of people in Twitter, Facebook and RenRen.com, China's students social media network. The condom brand calls its fans to share HIV/AIDS facts with the #1share1condom hashtag—each of the shares equals one (unused) condom to be donated by the brand to local or global charities across the world. Durex is committed to give away 2.5 million latex contraceptives (around $600,000), and this amount is symbolic—in 2011, the same number of people got newly affected by the virus. So far, the initiative has generated over 2.1 m condoms. The brand is not only calling people to "give" condoms with the help of Durex, but it also educates audience with clips on the dedicated website.
Chevron has also joined the movement and encouraged its community to share key facts about AIDS (it has a pure informative reason, without sharing any condoms or liters of gasoline for travelling to the nearest drug store to buy ones). In fact, one of the biggest multinational energy corporations has been battling AIDS for over 25 years. In 2012, it revealed a page containing facts, tools to show your support (Facebook Timeline photo and profile picture) as well as challenged video creators on the Zooppa platform to shoot a video revolving around the "AIDS is going to lose". The company posted ten best clips on the dedicated page.
Stigmatization is another problem people with HIV face, and this may be killing them as much as the disease itself. A bunch of initiatives launched ahead of December 1, 2012 were encouraging people to experience what it is to be one of 33.4 million HIV positive individuals in the world. Grupo Vhiver, an AIDS NGO in Brazil, installed a free photo booth, which actually didn't shoot any photos. Instead of getting their pictures after posing inside the booth, customers received a sheet of photographs showing only the red curtains in the background, along with the message "Invisible. That's how HIV positive people feel every day" (the English translation) and the charity's contact info.
MTV has released an impressive movie "I'm Positive," which actually ruins barriers between those who don't have HIV and those who have it. It tells stories of three infected young people, who decided to beat AIDS instead of letting it beat them, and also features people who stood by their AIDS-affected friends and relatives. The page also features highlights related to the HIV spreading and a call to get HIV tested (by the way, starting this year, Americans can buy a home HIV test).
While scientists are creating new medicine to battle the pandemic and non-profit organizations are helping find proper living and treatment conditions, spreading awareness and developing tolerant attitude is game-changing, too. Here are three basic principles, which underlie AIDS educational campaigns. In fact, these key points can be applied to public initiatives related to any kind of health disorders, from cancer to obesity and anorexia.
1. Share real people's stories. In fact, these can focus both on living through the disease and even getting conquered by it eventually. Be realistic. Show life as it is, with both positive and negative aspects. Focus on the story, the path which is travelled, not on the end.
2. Provide audience with simple facts. Few people ever read long papers and dig into details. "1 in 4 new HIV infections occurs in youth, ages 13-24," or "Since 2011, there has been more than a 20% reduction in new HIV infections".
3. Encourage the disease-free people feel they are under threat, too. No one is 100% protected from becoming one of those with HIV. Still, it is not transmitted by air, hugs, touches, etc. Living with HIV should not mean leaving society. Developing tolerance within communities is essential.