American Airlines started a new year with a new visual identity developed by FutureBrand. The company has waved goodbye to its old red and blue AA Silver Bird symbol and unveiled a new logo and exterior for its planes for a modern twist to the company's image. It's the first update of American Airlines look in over 40 years. The colours, slightly refreshed, remained the same (they are blue and red as before), but the symbol (the eagle) is now spreading its wings wide, instead of rising them above.

Pic.: American Airline's new logo
"Our new logo and livery are designed to reflect the passion for progress and the soaring spirit, which is uniquely American," said Virasb Vahidi, American's Chief Commercial Officer. "Our core colors—red, white and blue have been updated to reflect a more vibrant and welcoming spirit. The new tail, with stripes flying proudly, is a bold reflection of American's origin and name. And our new flight symbol, an updated eagle, incorporates the many icons that people have come to associate with American, including the 'A' and the star." On its official Facebook page, American Airlines unveiled a series of photos to demonstrate how the new identity will be reflected throughout the travel experience—the logo is incorporated into interiors, badges, brochures, cards, signs, etc.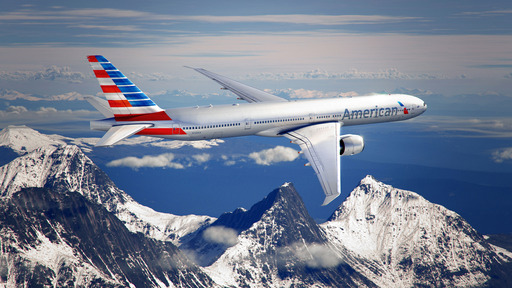 Pic.: American Airline's new livery
The new look will be gradually rolled out across the company's network over the coming months. The visual identity update is not the only new move the company has planned for this year. American Airlines is also focused on delivering better travel experience for its passengers and also giving employees the tools, training and leading technologies they need to provide better services.
The company is set to add nearly 60 new aircraft, including the new Boeing 777-300ER to its fleet. American Airlines will also offer expanded international service; will integrate new technologies (tablets) allowing flight attendants, pilots, and maintenance workers to get information instantly on demand; and introduce top-notch onboard experience in premium class cabins on international flights.
To celebrate the major update, American Airlines launches a new advertising campaign, developed by McCann Worldgroup. As part of the new promotion, the company has released a lovely "Change Is in the Air" spot, which can be watched below.