Following the example of Red Bull and Virgin, which are definitely in love with space, AXE (Lynx) launches its own space-related initiative. The brand is providing its fans from around the globe with a hilarious once-in-a-lifetime opportunity to win a trip on board of the Lynx suborbital spacecraft. While previously the brand used to focus on the controversial theme of male-female relationship, now it goes big and serious. The AXE Apollo project has become the biggest and most ambitious initiative of the brand's 30-year history.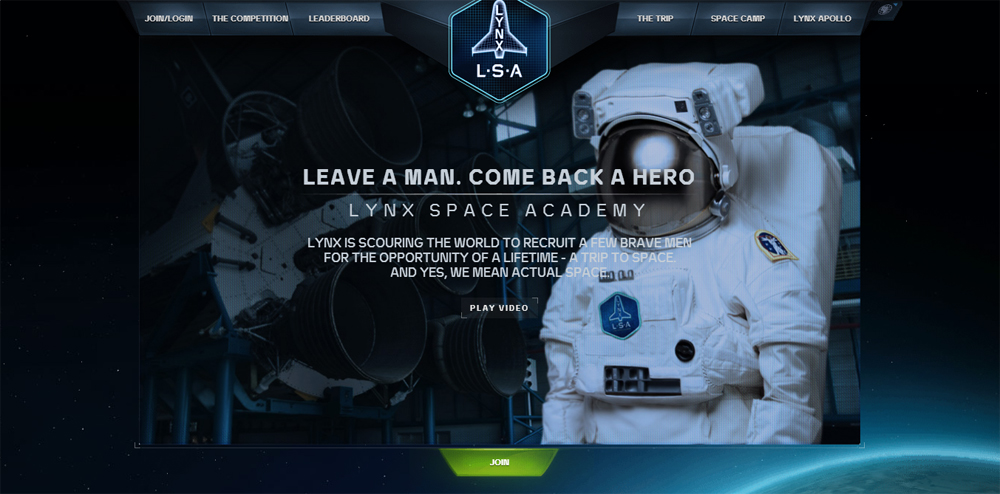 Pic.: A snapshot of the www.axeapollo.com website (click to enlarge)

As part of the project, the brand has founded the AXE Apollo Space Academy (A.A.S.A) with one of the first men to walk on the moon, Buzz Aldrin. There, contestants (both male and female in some markets) will be competing for one of 22 tickets to travel to high above the Earth on a flight with international space agency, Space Expedition Corporation (SXC). Users from 60+ countries are invited to enter the competition on the dedicated website, AXEApollo.com, which is translated into 45 languages. The details (the dates, number of winners on each of the stages, etc.) depend on the market.
The shortlisted finalists will compete for the right to be among the final 22 space travelers. The winners will be selected "based on competitive space-simulation challenges" at the AXE Global Space Camp in Orlando, Florida. The suborbital plane will take the winners (one at a time as the spacecraft can fly only two people—one pilot and a passenger) over 100 kilometers into space from the Caribbean island of Curacao. The first flights are expected to start in early 2014 (each of the tickets costs $95,000).
"For the first time, we're simultaneously launching one global competition in over 60 countries offering millions of people the opportunity to win the most epic prize on earth. A trip to space—yes, actual space," commented Tomas Marcenaro, global Vice President for AXE.