Coca-Cola, the modern world's 'saviour', who inspires people to make good things and eat healthy, is not just making fun filming cute movies about its 90-year advertising icons — polar bears, but taking the problems facing the Arctic (such as global warming, fast shrinking of sea ice etc) and, therefore, the plight of bears very seriously.
Today the company has announced a three-year global charitable partnership with WFF and €3m financial support of the new Arctic Home campaign, aimed to raise awareness and help conserve the home of the bears. The territory includes Last Ice Area, which is of over 1.4 million sq km, lies in northern Greenland and northern Canada Last Ice Area.
The Arctic Home launch event will be held in London, at the Science Museum on January 17th, and further supported by TV commercials (from February 2nd), print ads and digital activity across the U.K.
On 16 more European markets there will be a large-scale promotional campaign focused on a specially marked packaging featuring a mother polar bear and her two cubs making their way across the Arctic.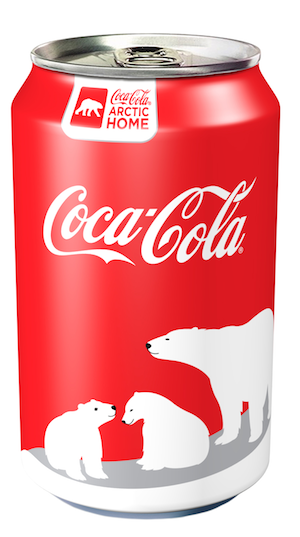 Photo: Coke's Arctic Program special limited edition (300 m) can, clickable
Zoe Howorth, Marketing Director for Coca-Cola GB commented on the collaboration with WWF: "We are really excited to be building on this partnership with the launch of the Arctic Home campaign here in the UK. We believe that by combining our two organizations' strengths and resources with the support and involvement of the general public, we'll be able to go beyond what we each could achieve on our own."