According to Nielsen's quarterly Global AdView Pulse report, the ad spending across the globe was up 4.3 percent over Q3 2012 (to $139 billion), which is even bigger than in the first half of the year, which saw a 2.7 percent growth.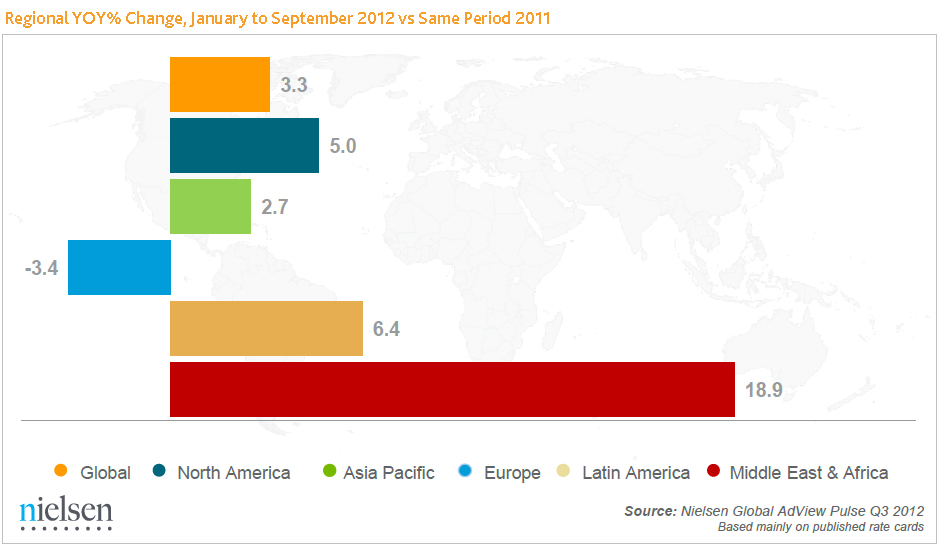 Pic.: Regional YOY% change in global ad spend, www.blog.nielsen.com (click to enlarge)
Middle East and Africa as well as Americas contributed greatly to the increase. During September 2012, the North American market showed a 5% increase, hitting a 10.2% mark during Q3. Middle East and Africa saw a 18.9% YOY rise (January to September 2012 vs. the same period in 2011), while in North and Latin America it was estimated at 5% and 6.4% correspondingly (see the infographics above). The Asia Pacific market experienced a smaller growth, which is still a good result: a 2.7% YOY increase in ad spend and a 3.5 percent increase for Q3. The worst performer is Western Europe, which showed a 2.7 percent decrease in year-over-year ad spending during the first half of 2012, and saw Q3 cuts in advertising (-4.8%).
In the USA, political, automotive, industry and services ads contributed to the growth. In Asia Pacific, the success is explained by the fact that China's advertising market is recovering and companies are now spending more on advertising (in Q3, the ad spends in the country were up 3.1% after two consecutive quarters of decline). As to the Western European market, the ongoing economic instability is considered to be the major reason behind the ad cuts.
At the end of December 2012, WPP, Publicis Groupe and Interpublic Group have revealed their forecasts as to the ad spend in 2013. They are predicting the overall growth of global ad spending (still, the growth will be smaller than predicted by the companies before). WPP's GroupM, expects the 4.5% increase to $531 billion (vs. 5.3% it predicted in June). Publicis's ZenithOptimedia forecasts the 4.1% increase (in October it stood by 4.6 %). Interpublic's MagnaGlobal, anticipates the 3.1% rise in ad revenues (vs. 4.5% it predicted in June).
"The global economy is very fragile despite less stressing problems on the euro. Advertisers are hesitant, and some sectors such as automotive and financial services are still facing issues and have not yet totally recovered," commented Maurice Levy, chief executive officer at Publicis, The Wall Street Journal reports.