Kenzo is rolling out the second phase of its "X Campaign," launched in fall 2012, with same artistic approach and the same creative minds behind the project. For the latest—spring 2013—installment, the global fashion brand decided to once again collaborate with internationally acclaimed artist Jean-Paul Goude, who is helping accentuate Kenzo's styles with his unparalleled creative vision.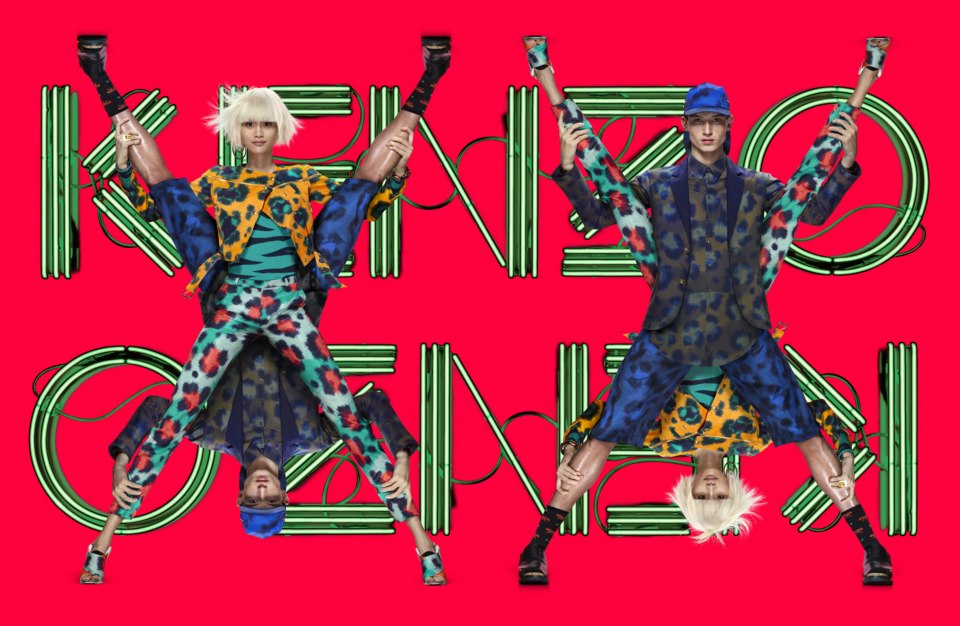 Photo: Kenzo Spring/Summer 2013 Campaign by Jean-Paul Goude, www.newkenzocampaign.com (click to enlarge)

As part of the new round of the "X Campaign," Kenzo launched a microsite, www.newkenzocampaign.com, where it invites to watch the video of the making-of as well as tells more about the artist and Kenzo creative directors Humberto Leon and Carol Lim. In the hub ( in English and French), one can also take a closer look at the prints used in the new eccentric collection. For the new range, the classical animal and camouflage styles were reinvented with vibrant, eye-catching hues (from tangerine and turquoise to navy-blue and mustard yellow) for a surreal, synthetic feel.
"The 'X Campaign,' as it has become known since initial outing last year captures the essence of KENZO in its fun use of off-kilter symmetry and playful undertones. Featuring models Ming Xi and Jester against a fiery red backdrop, Spring/Summer promises to be yet again an energizing and electric season for KENZO fans and followers around the globe," says the brand on the site.
The vibe of the Kenzo "X Campaign" reminds us of the "polka-dot" promotion of other luxury brand, Louis Vuitton. LV managed to evolve the idea behind the collaborative collection into a really big story, which was told through a stunning microsite, videos and even "spot the difference" game. Maybe, Kenzo has planned a bunch of similar elements for its third "X Campaign"?