The legendary motorbike brand Harley-Davidson teams up with "American Badass" Kid Rock to mark its 110th anniversary, which will be celebrated with a series of events across the globe this year (the brand even received Pope Benedict's blessing for that). As part of the partnership, the brand has become the title sponsor of Kid Rock's Rebel Soul tour and has also tapped the musician to co-create a range of limited-edition branded «rebel» merchandise.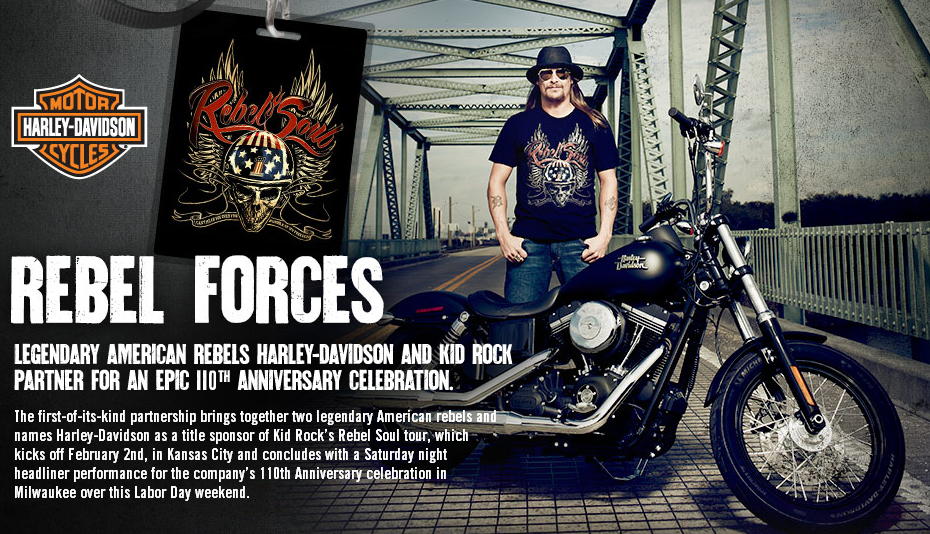 Photo: Harley-Davidson became the title sponsor of Kid Rock's Rebel Soul tour (click to enlarge)
The tour, which kicks off in Kansas City on February 2 and includes 60 planned stops, will culminate with the final stop in Milwaukee, Harley-Davidson's hometown, on August 21—there, Kid Rocks will be joined by two other headliners (their names are still to be announced). Harley-Davidson also collaborates with the musician, who previously worked with the Jim Beam bourbon brand, on a collection of limited-edition Rebel Soul merchandise—the range features a line coined by Kid Rock "I can't hear you over the rumble of my freedom" (the exclusive items will be available at participating Harley-Davidson dealerships across the U.S.).
Harley-Davidson also wants the concerts' audience to get maximum of the events—fans will be invited to register at the venue to win a once-in-a-lifetime opportunity to rock alongside the Kid Rock's Rebel Soul band on the stage for one song. Plus, they will be able to win a factory-customized Harley-Davidson motorcycle and be invited to join the musician during the final event.
"What's not to love about Harley? They are the backbone of American culture, the flagship American brand. I am honored and excited to partner with this legendary icon that has helped to define American freedom at home and abroad. In 110 years no one has done a better job of representing America—there is NOTHING that screams America like Harley-Davidson," noted Kid Rock.
Harley-Davidson will celebrate its anniversary globally, with large-scale events in 11 countries across the globe throughout September. The anniversary program will include two major events—one in Milwaukee during Labor Day weekend and one in Rome, Italy, slated for June 13-16. The brand also invites a global community to visit its website to "leave a mark"—upload their photos on the dedicated wall to share the individual self-expression and passion for adventure.