Levi's is explaining how to combine sustainability and style. The brand, which has been spreading its eco-focused message for years, now partners with the Rhode Island School of Design to encourage young designers to adopt the green fashion outlook. The collaboration, launched as part of the RISD's Designer in Residence program, includes the five-week course, which will be conducted by Nada Grkinich, senior director of Levi's global footwear and accessories, and Paul Dillinger, senior director of Dockers color and concept design.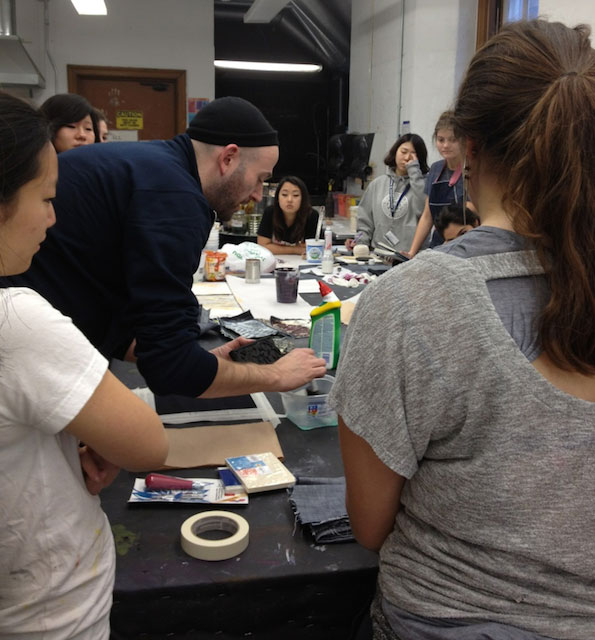 Photo: Paul Dillinger with RISD students,  www.levistrauss.com (click to enlarge)

The goal of the course is to merge the new green philosophy with the traditional design approaches and prove that style and sustainability can marry. The workshops, which will feature select artists and designers, will be hosted to "circumvent the echo-chamber of the same-old design ideas, get feedback on new styles, and incorporate new thinking into real products," commented Dillinger. He also adds that students (including apparel designers as well as interior designers and graphic artists) will learn more about "the development of ideas, color, texture and pattern in relation to the human form," says the press note. The students, who have joined the course, "are exploring hands-on techniques including fabric manipulation, stitching and cutting."
Levi's is making a great contribution to support so-called green fashion and green creatives. The brand has created Waste<Less and Water<Less jeans, which require less resources to be manufactured—all to help minimize negative impact on our planet. The iconic jeanswear brand is also helping younger talents to unleash their creative potential in various disciplines—from filming to printing—recently, Levi's and Intel launched their collaborative "Friends of MOCA" initiative to support creative learning.