MINI launches latest international campaign dubbed "Design with Bite" to reveal the playful, adventurous nature of its new car— its 7th model, MINI Paceman described as "the world's first Sports Activity Coupé in the premium compact segment" (the new niche for MINI). The new promotion, which includes TV videos, prints, web special and social media elements (to be launched in late February), invites audience to explore the bold nature of this small and smart urban vehicle.
The new TV ad "Street Attitude," created with a pinch of lighthearted humor and three alternate endings, feature a young guy, who is driving home through NY, making short stops at different locations such as an Asian snack bar and vinyl discs shop. He's rushing through busy night streets, passing by graffiti walls, galleries, trendy bars and high urban buildings. In the end, the guy arrives in his garage, where—in one version of the spot—he meets a girl (she drives into the same garage a half a second later and gives him the middle finger), or—in the second version—he sits on the couch, where the girl is already waiting for him, or—in the third version—he sits on the couch alone.
Along with the videos, which were uploaded to the brand's YouTube channel on January 21, the brand has released a series of visuals, which "are also designed to create a desire for a night-time drive in the MINI Paceman to less conventional destinations like underground clubs and design stores."
The images, which are accompanied with innovative slogans, will appear in print worldwide starting February. On its official national pages, MINI also invites its fans to take "a 3D look" at the new model or some parts of it using the Magic Eye (you don't need 3D glasses for that, it's just enough to focus your eyes in a special way). Remember, that you will see just silhouettes of the objects in the colour you choose, not the vehicle and its parts in detail.
MINI is also planning to launch the social media campaign "Discover your inner Paceman," which will introduce MINI Paceman to the audience through an online guide game. In the "Urban Personal Test Drive," built with HTML 5, the brand fans will be driving a MINI Paceman car through an interactive online world, and intuition will be their navigator. "Users play an active role in shaping the course of their own adventure story," says the brand. In late February, you'll have an opportunity to experience the unparalleled digital MINI drive.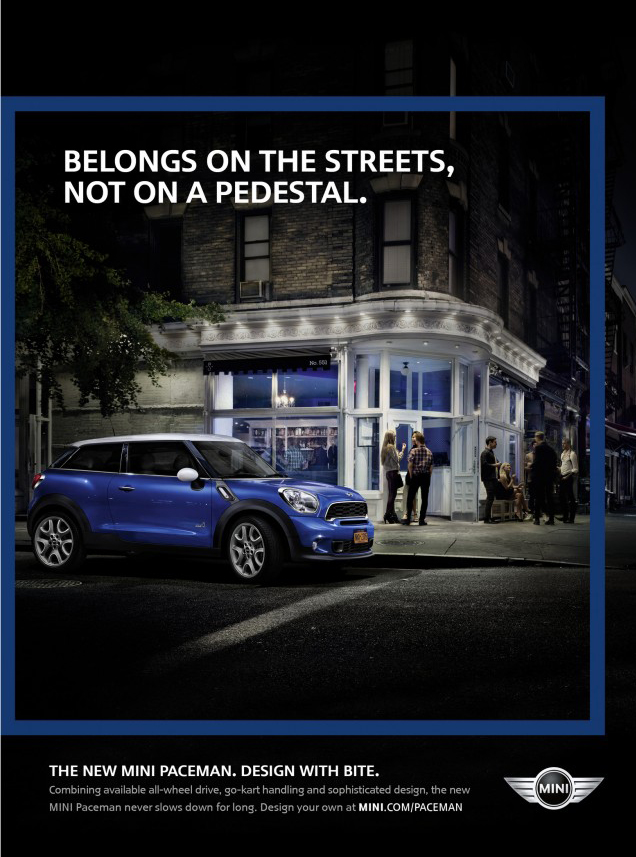 Pic.: The MINI Paceman print from the «Design with Bite» campaign (click to enlarge)