As the trend watching agencies predicted, in 2013 mobile is becoming a universal ID (as well as a wallet, tutor and guide), which comes in handy whenever and wherever you need any information. Aggressively taking on a good old Google search, ubiquitous mobile apps will be the target No 1 for savvy advertisers out there (at least until 2015, as Gartner predicts).
According to the report revealed yesterday by the U.S. IT research company Gartner, forecasts for the global mobile ad revenue growth for the coming three years are astonishing (18.7% in 2013, from $9.6 to $11.4 billion), especially compared to a moderate rise of 4.5% in global ad revenues, predicted for 2013 by WPP's Group M back in December, 2012. Revenue in this rapidly growing ad segment is expected to reach $24.5 billion in 2016, showing a 400% growth over a five-year period since 2011.
Regions that will drive the growth
Early adopters of all things digital and mobile, Japan and South Korea, have given the Asia/Pacific region the lead in mobile advertising worldwide. North America and Western Europe will get slightly lower revenue, however, are expected to experience 360-degree advertising campaigns with a multi-platform approaches, which will blur the lines between channels and make it difficult to eliminate category overlap. In the rest of the world such emerging markets as Russia, Brazil and Mexico will lead the growth due to economic stabilization and further technology adoption.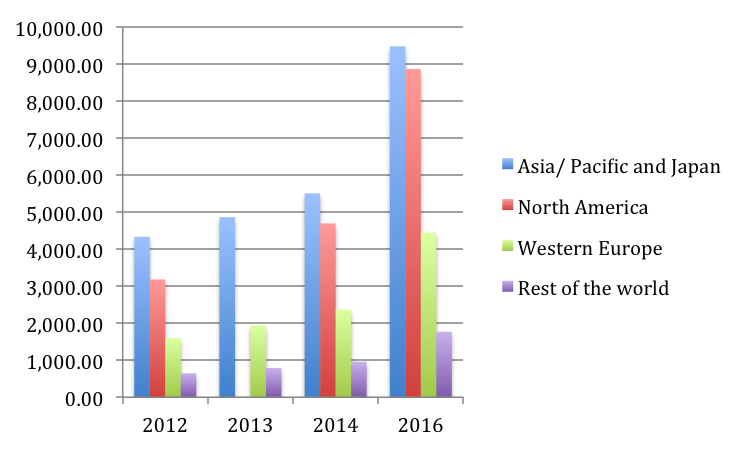 Pic. Mobile Advertising Revenue by Region, Worldwide, 2012-2016 (Millions of Dollars)
Revenue-generating mobile ads by type
Mobile search, specifically, location-based, will be the biggest driver of mobile ad revenue growth, but over time it will lose its strength. Instead, mobile display ad spending  (in-app and in-browser display) will take over. Moreover, Gartner experts predict that from 2015 web display will take over in-app one.
Trends following from Gartner research's facts and figures
1. If mobile ad revenues are on the rise, than other more traditional media will suffer from budget cuts. Print media, again, may be in danger of commercial losses. «Growth in mobile advertising comes in part at the expense of print formats, especially local newspapers, which currently face much lower ad yields as a result of mobile publishing initiatives,» comments on this research director Stephanie Baghdassarian.
2. If mobile display ads are expected to come into wider use, some new formats of it should be rolling out soon.
3. Penetration of smartphones should soon reach its maximum, with new different options and at a lower price, as a result of the high level of competition between the leading smartphone manufacturers.
Commenting on the accuracy of the forecast, Ms. Baghdassarian said: «Some correction in the growth rate must occur before demand from brand and local advertisers catches up with supply, and more sustainable economics support a faster growth rate commensurate with consumer adoption».
Full version of the report is available here http://www.gartner.com/resId=2247015.