Red Bull is giving wings to young people in virtually all the spheres of modern life, from extreme sports to arts. The energy drink is rolling out its initiative dubbed Red Bull Curates: The Canvas Cooler Project in the USA, inviting emerging artists from various backgrounds (and working in different media) to display their art pieces and meet art dealers at the SCOPE Miami fair during Art Basel, an international contemporary art show, in December.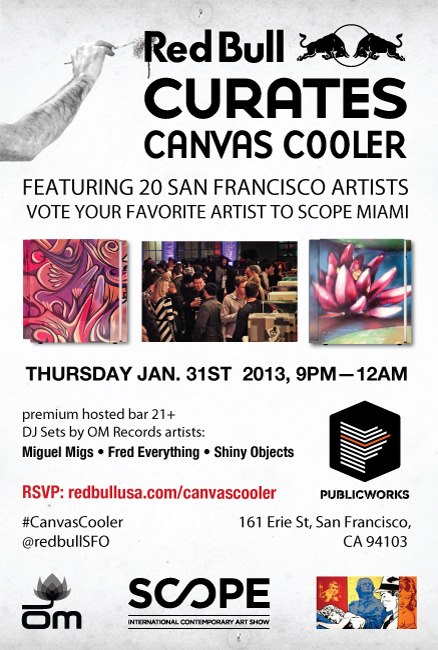 Pic.: Poster of San Francisco's stop of Red Bull Curates: The Canvas Cooler Project
The project is now rolling out across seven US cities—San Francisco (January 31), Los Angeles (March), Chicago (May), Dallas (June), New York (September), Atlanta (November) and Miami (December). The brand will choose members of a creative team of 20 artists in each of the cities—they will be creating a collaborative piece on a blank canvas-wrapped Red Bull Cooler (the creative groups will be working at the local bars, lounges and restaurants, which agreed to participate in the project).
Once the collaborative piece is finished, it will be displayed in a one-night only public showcase at one of the city's galleries, and the panel of judges as well as attending people will vote on two of the participating artists. The winners will be invited to SCOPE Miami. Now in its second year, Red Bull Curates: The Canvas Cooler Project has nearly doubled the number of cities (last year, in was rolling out in four US megalopolises) and engaged more participants (120 vs. nearly 100 last year). Watch the video about the project here.
Red Bull launches a plethora of art and music projects, but extreme sports remain the brand's favourite theme. It is now rolling out a new international campaign building on its iconic slogan "Red Bull Gives You Wings." The centerpiece of the new promotion, a new 60-second spot, features the world's famous athletes including Australian surfer Julian Wilson and space-jumper Felix Baumgartner (from the Red Bull Stratos project) to name a few—the clip features footage of their nearly superhuman sport achievements. Red Bull encourages its fans to use the #GivesYouWings tag to describe their personal "Gives You Wings" moments on social media channels.
"By working with athletes that have achieved amazing feats, we aim to communicate the breadth and depth of the World of Red Bull and establish that Red Bull gives wings to people and ideas in a unique way. We want to share this content with consumers and inspire them to share their own stories," shared Andrew Waddel, marketing director at Red Bull.