Twitter has launched its Oscars Index to help the audience track the buzz and social conversation about this year's nominees. The dedicated hub, launched by the micro-blogging service on the www.oscars.twitter.com platform, features colourful dynamic line graphs related to the 2013 Oscar nominees in six major categories. The graphs are based on the overall conversation referring to Academy Award Nominees on Twitter these days. "The Twitter Oscars Index reflects the ebb and flow of the movie-related conversations throughout the awards season, showing how positively fans are commenting on nominees on Twitter," says the company on its official blog.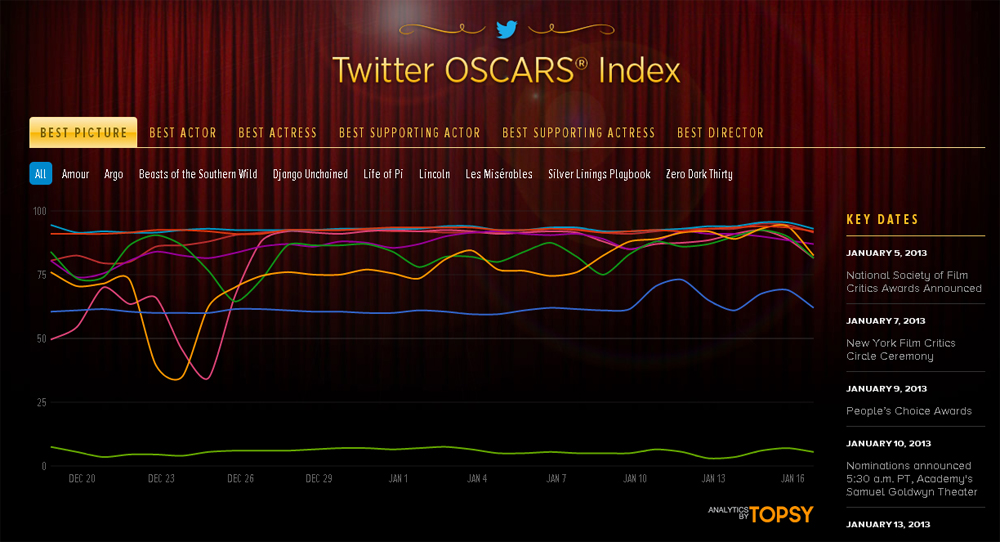 Pic.: A screenshot of a page with Twitter Oscar Index, www.oscars.twitter.com (click to enlarge)
The page features the graph, Key Dates, Oscar Tweets, and Featured Accounts, which allow to build the most accurate picture of the ongoing conversation. The categories, highlighted in the Index, include Best Picture, Best Actress, Best Actor, Best Supporting Actress, Best Supporting Actor, and Best Director—users can track the sentiment of tweets about each nominee in this category 24/7 and see how the positive conversation about a particular nominee has changed over time (choose the date and see the rises or falls of the lines). Users can also compare the lines to see which of the nominees has generated the most positive sentiment.
Pic.: A screenshot of a page with Twitter Oscar Index, www.oscars.twitter.com
The methodology of calculating the score seems to be quite simple—the score (from 0 to 100) of the nominee reflects how much positive buzz the term has generated compared to all other conversation (not only related to Oscar nominees) on the platform. Here's how Twitter explains it: "For example, a score of 87 for Silver Linings Playbook indicates that Tweets discussing Silver Linings Playbook are on average more positive than 87 percent of all Tweets. This may remind you of the Twitter Political Index, which focused on the Twitter conversation around presidential nominees Barack Obama and Mitt Romney. Indeed, the Oscars Index employs the same underlying methodology; as we did earlier, we're once again partnering with Topsy (@Topsy) for sentiment analysis. We also worked closely with the Academy on this project."
So far, according to Twitter Oscar Index (as of January 16) Silver Linings Playbook, Ang Lee, Daniel Day-Lewis and Jennifer Lawrence are leading in their categories, but since the winners are selected not by the Twitter audience, but by jury, the results may be a way different on February 24, when the 85th Academy Awards ceremony is to be hosted.