H&M continues to commit to a more sustainable fashion future with a new eco-friendly seasonal collection, presented by Vanessa Paradis. In the promotion of the H&M's Spring/Summer 2013 Conscious collection, which is launching internationally in two months, the French celebrity is wearing very feminine and spring-inspired clothing items in the settings, inspired by a spring garden.
Photo: Vanessa Paradis as the face of H&M's Conscious collection, www.about.hm.com
In the new stills, Paradis wears the romantic styles, which embody the spirit of the awakening nature. Most of the items from the collection, which includes a floor-length dress, a zip-up utility jacket, a blazer, a cropped jumpsuit, a T-shirt dress and more as well as accessories and footwear, feature floral prints. The other items go in polka-dot and ikat prints (some of the pieces don't use any pattern and are designed in just one colour). All the items on the new collection are manufactured from "more sustainable materials, such as organic cotton, recycled polyester, and Tencel," says the retailer. The first brand's Consious collection was released in spring 2011.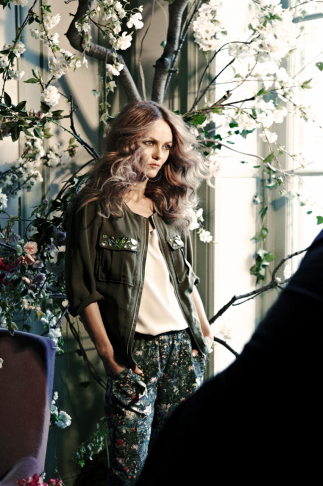 Photo: Vanessa Paradis as the face of H&M's Conscious collection, www.about.hm.com
The new collection will be launched in late March in H&M stores worldwide. The retailer has created three lines within the Conscious collection—for women, men and children. H&M will be also encouraging its consumers to contribute to "the conscious effort." They will be encouraged to bring in their used clothing (from any brand) to the participating H&M store, and in return for each bag, the retailer will give them a H&M voucher for future shopping.
"I like being part of something like the Conscious collection at H&M. I try my best to shop consciously, and vintage is very much part of my wardrobe. I love the style and it works in an eco-friendly way because I like to use and reuse old clothes," commented Vanessa Paradis.