Some jeans fit your shapes and help you become more eco-minded (Levi's), some make you feel a bold superhero (Diesel), but no denim pants have ever cared of your skin before. But things change. To protect the legs' skin from the sometimes dehydrating effect of the denim, Wrangler has developed a line of moisturizing skinny-fit jeans. Styles from the new Spa Denim line are infused with special high-performance skincare ingredients, which help to keep skin of the legs beautiful.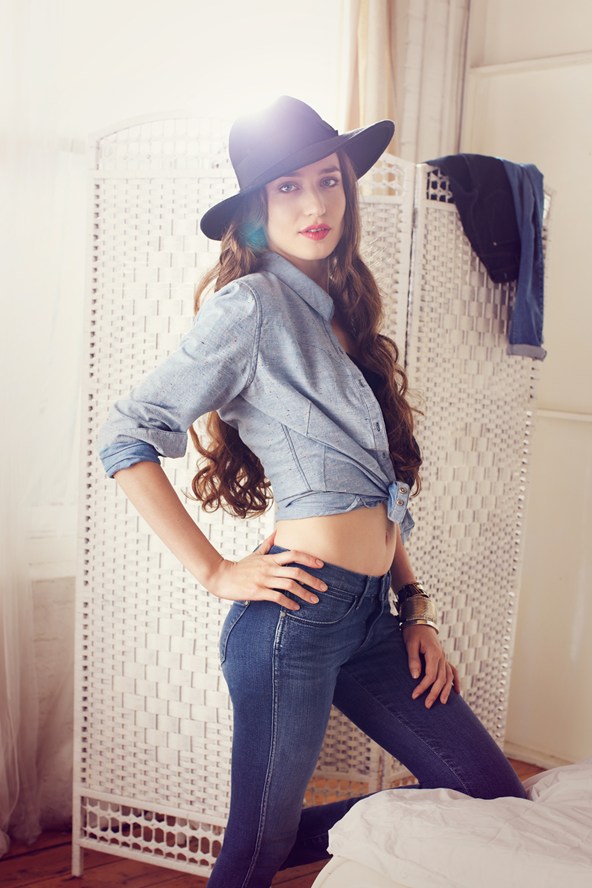 Photo: Lizzie Jagger wearing Wrangler's moisturising jeans, www.vogue.co.uk (click to enlarge)
The new Denim Spa jeans line, which comes in the classic blue colour, includes three finishes, Aloe Vera (soothes sensitive skin), Olive Extract (keep skin toned and moisturized) and Smooth Legs (helps reduce the texture of cellulite). The cosmetic effects of the last style, which incorporates algae extracts, retinol and caffeine, were clinically tested in the Institut Adriant in France, and "69 per cent of the panel claimed that the appearance of their thighs had improved after four weeks of wearing the jeans eight hours a day, five days a week," writes www.harpersbazaar.com.au. The jeans will be available on asos.com starting January 28. The price of each model with a "cosmetic" finishing is £85, reports Vogue.
The therapeutic effect of each of the styles lasts for 15 days after you wear them first (which is equivalent to four to six washes), and after that it can be renewed by applying a special reload spray. In total, the jeans' beauty formula can last for around 67-95 wears, says Wrangler.
The brand tapped Lizzie Jagger to front the new campaign to promote the groundbreaking jeans line. "They definitely feel cooler than regular jeans. After a day wearing them, my legs feel great—they come out feeling more silky than usual," says the model in a promotional video, which can be watched here.