Unilever's AXE is taking on Procter & Gamble's Gillette with a release of a new razor in the US. The brand, which is known for its range of body wash products and deodorants for male consumers, has teamed up with Energizer to introduce the AXE razor, which turns to be the new version of Schick's value-priced Hydro 3 model. The product comes in clack packaging design just in the brand's style and visual approach—it is available on Walmart.com, shipping starts on February 15.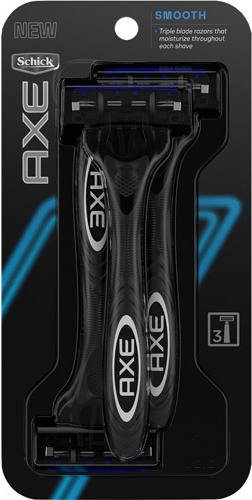 Photo: AXE Razor, www.walmart.com (click to enlarge)
For Unilever, Procter&Gamble is the biggest rival in the USA with its Old Spice and Gillette brands, and with this move AXE wants to gain a bigger share on the market. Gillette rules with the 80% share in the $1.8 billion  the razor blades market, according to Ad Age, and Schick has gained its small portion of consumers' attention (and money) there too. So, for AXE it is quite a logical step to partner with Schick now. So far, the companies keep silent about the details of their collaboration and declined to provide any information on the campaign, which is sure to be launched to support the new product (it's not clear yet, which agency will handle the promotion, Schick's JWT New York or Axe's BBH New York). The officials say the details will be unveiled over the next 30 or 60 days.
For AXE, launching the razors with Schick on the U.S. market is quite a bold move considering the fact that Schick has a better presence and market shares outside USA. Unilever also could use its strong distribution network in developing markets to make the launch more successful there. Still, AXE hopes that the lower price of the razor (compared to the cost of the competitor' offerings) will help it reach the goal. As it turns out, AXE razor replacement cartridges cost $2.50 for a blade from a four-pack, while Gillette Mach 3 and Fusion ProGlide cartridges' prices reach above $3 and $4 correspondingly.