The next challenge for brands is to meet human and consumer needs on both a global and a more local scale.
Scaling up with mass-market innovation versus scaling down to meet specific and more localized human needs, which is more important? Actually we need both—and there is a place for both. But how we address and balance this is now the key issue for consumer brands. Brands still need to succeed with the mass market, but we are all now more accountable for the planet and for each other —and consumers expect brands to address a moral, social, political and ethical agenda.
Many, of course, already do —using brand and packaging design as campaign vehicles to address these issues and reinforce a bigger picture brand stance and messaging. And, in many respects this has almost become a given. Sustainability, for example, is now high on everyone's agenda, in every industry —and now an integral part of new product development and innovation. It's great to see sustainability being increasingly scaled up and revolutionizing whole categories, such as the news that Unilever has launched a new 'half size' compressed format for its portfolio of Sure, Vaseline and Dove deodorants.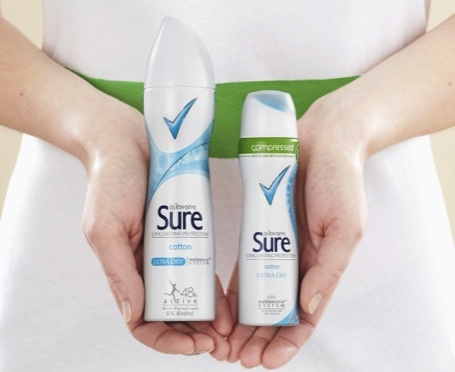 Photo: Unilever's Sure: old (left) and small new (right) packs, image courtesy: Design Week
An innovative idea does have the power to be world changing. But it's no use if it cannot be scaled. As with Unilvever, we need big ideas scaled well— and scaled appropriately. But the next challenge for brands is to meet human and consumer needs on both a global and a more local scale. It is not just about maximizing and marketing 'glocal' business and products but finding new ways to scale down to meet specific needs with the creation of ever more tailored and local brand initiatives.
Nike is one brand perfectly executing this scaling of innovation whilst at the same time understanding the needs of a smaller group. They continue to dominate the market for running shoes and accessories worldwide with new and exciting offers but this is balanced against the recent development of Nike Sole running prosthetics, specifically designed for amputee athletes. Brands need to follow Nike's lead and look at how they can make change happen on both levels.
Social media with its immediate and global reach, presents a phenomenal opportunity for the dissemination of ideas and the scaling up of innovation. Think about it—your single mobile device can now do the tasks of a multitude of individual products, books and services. When that power is truly in the hands of the entire world's population, the on- and off-line brands that harness that reach will have changed the world and changed themselves.
In a recent interview we conducted with Claire Diaz Ortiz, Head of Social Innovation at Twitter for our Challenger & Icon podcast series, Claire said, «I believe that the more we have that (sic) technology engrained in our brains, the more likely we are able to come up with innovative world changing solutions.»
But, we also now need to look for new—and appropriate—ways to use social media to scale down the offer. Last week airline company KLM announced the creation of personalized city maps with friends' tips. Using the «create my own free map» button on the KLM website, users select their required destination city from the drop-down list, name the map, and then invite friends to add tips with comments via Facebook, Twitter and email. Once the personalized city map  is filled with the desired number of sightseeings the map can be delivered for free to the recipient's home.
Whilst we expect to see a stream of ever more diverse and creative on- and off-line initiatives emerge, what will be most interesting is whether — inspired by examples of excellence like Nike —we can create truly new ways of brand thinking through design, as it is design that has the real potential to bring innovation to life, scaled up or scaled down.
About the Author

Darren Foley, Managing Director at Pearlfisher, London, joined the company in 2002 as Realisation Director, inventing the concept of realisation and advocating a design process in which our technical and creative teams work in harmony from the beginning. He has worked in the design industry for close to 25 years, starting out as a junior production artist, and amassing an unparalleled depth of knowledge for the discipline.